LOS ANGELES, Aug. 22, 2015 – Imagine a magician waving his wand over Dodger Stadium after a game and making all those hot dog wrappers, peanut shells and left-behind programs disappear …
Instead, we have mounds of trash.
On a much larger scale, that's the reality of major events – up to and including the Olympic Games – where facilities are built that have no obvious long-term use and sit idle.
This is where future events can learn a lesson from the recently-completed Special Olympics World Games in Los Angeles, where not a single facility was built for the event. None.
The entire Games, hosting 6,163 athletes from 164 nations in 25 sports, was held in existing facilities that were customized at modest cost to host the event at just 11 sites:
Balboa Sports Center (1): Football;
Griffith Park (1): Golf
Long Beach/Alamitos Beach (3): Beach Volleyball, Open Water Swimming, Triathlon, plus the Half Marathon;
Long Beach/Aquarium Way (1): Cycling
Long Beach/Belmont Pier (1): Sailing;
Long Beach Marine Stadium (1): Kayaking;
Los Angeles Convention Center (6): Badminton, Bocce, Handball, Powerlifting, Roller Skating and Table Tennis;
Los Angeles Equestrian Center (1): Equestrian
Lucky Strike Lanes (1): Bowling;
UCLA (7): Football (Soccer), Gymnastics/Artistic, Gymnastics/Rhythmic, Judo, Softball, Tennis and Volleyball;
USC (3): Athletics (Track & Field), Basketball, Swimming.
The Long Beach sites were serviced together, acting as a single hub in terms of supplies and transportation. Athlete housing was concentrated at UCLA and USC, so that athletes could walk – and 54% did – to their competitions, completely eliminating transportation.
It's true that the sites were generally small, that attendance was limited, and that tickets were not sold except for the Opening Ceremony. There were, however, long lines to get in only at gymnastics (artistic and rhythmic) and at judo, both at UCLA.
But unlike so many other events, the World Games organizers here in Los Angeles felt no need for grandeur . . . or for waste. The venues were right-sized to what had been the experience of very light attendance at the World Games in prior years.
Instead, people came out in force to several sites and the 2015 Games set an all-time record of 247,247 attendees, of which 146,551 came to the competitions (the others went to the Opening and Closing Ceremony).
But the facilities chosen were outfitted with bleachers, portable restrooms, tents and whatever else was needed to make the competitions work for the athletes, officials and spectators. They were returned to their original state, to go back to their regular uses, within days after the Games ended.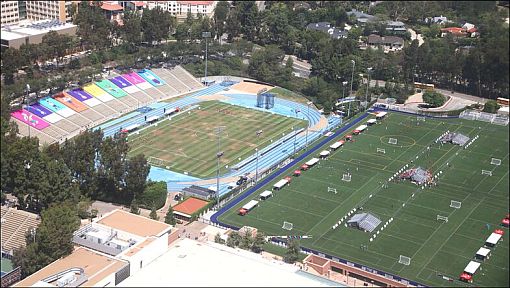 As the race for the 2024 Olympic Games gets underway, it will be worthwhile to see if the International Olympic Committee – which has memorialized its desire to avoid facilities without post-Games uses in its Agenda 2020 reforms – places any emphasis on the avoidance of waste.
It's true that for some cities, new arenas or stadiums are appropriate or needed. The Salt Lake City facilities built for the 2002 Olympic Winter Games are busier now than ever.
But the I.O.C. picked London for the 2012 Games and watched the budget explode from the bid-book figure of 2.4 billion British pounds (about $4.4 billion U.S. at the time) to 8.8 billion British pounds (about $13.7 billion at 2012 rates). Was it worth it?
By the way, Paris also bid for the 2012 Games and had an aggressive approach to temporary facilities to keep costs down. Perhaps the French were ahead of their time; they're bidding again, you know.
(If you're interested in assistance with your mega-event, go ahead and Contact Us right away!)