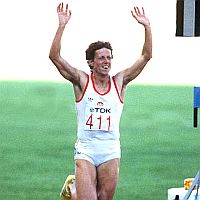 LOS ANGELES, Aug. 24, 2011 – As the climax of the 2011 track & field season, the IAAF World Championships, draws near, fans begin wondering if the meet will showcase new world records, taking events where they have never been before.
Fat chance if you're a fan of women's track.
That's because the major women's records are still hostage to the sport's "Steroid Era" that lasted at least through the end of 1990. By 1991, drug testing had advanced significantly beyond the technology which famously caught Canadian sprinter Ben Johnson at the 1988 Olympic Games in Seoul and random, out-of-competition testing had been introduced. Just as importantly, the state-sponsored doping protocols of the Warsaw Pact countries were falling victim to the democracy wave that dissolved the German Democratic Republic and even the Soviet Union.
Among the 12 women's events to be contested on the track in Daegu, South Korea beginning this weekend, nine of the 10 which were competed in at the championship level in the 1980s have records which date from 1983 to 1988. Only the 400-meter Hurdles – an event in its infancy in the '80s – does not still have a 1980s record, and the 3,000-meter Steeplechase (first time in the Worlds in 2005) and 5,000 meters (replaced the 3,000 m in the 1995 Worlds) were introduced later. And those 1980s records belong to some of the most iconic women ever to lace up spikes:
100 meters:
• IAAF World Record: 10.49 by Florence Griffith-Joyner (USA), 1988.
• Post-1990 World Record: 10.64, Carmelita Jeter (USA), 2009.
FloJo's miracle season of 1988 has been well documented and the Association of Track & Field Statisticians (ATFS), among others, believes her 10.49 from the U.S. Olympic Trials quarterfinals was wind-aided, and that the IAAF should recognize her 10.61 from the Trials final. But if you want to look past 1990, the unquestioned queen of the short sprint has to be Jeter, who has three of the top ten marks ever and has a clean doping record, unlike Marion Jones (who also has three marks on the list prior to her doping positives of 2000).
Note must be made of the one sprinter of the Steroid Era who was unquestionably clean and set two world records of 10.79 and 10.76 in 1983 and 1984, respectively: Evelyn Ashford.
200 meters:
• IAAF World Record: 21.34 by Florence Griffith-Joyner (USA), 1988.
• Post-1990 World Record: 21.62 by Marion Jones (USA), 1998.
FloJo was again dominant here, and as the disgraced Jones has the top mark after 1990 (set at altitude no less), you might wish to look for a "clean" record-setter with a mark set near sea level. Enter two other great names in women's sprinting: Jamaica's Merlene Ottey, who ran 21.64 in 1991, but was briefly suspended for a drug positive in 1999 that was overturned in 2000, and American Gwen Torrence – who had no drug positives in her career – with her 21.72 in 1992.
400 meters:
• IAAF World Record: 47.60 by Marita Koch (GDR), 1985.
• Post-1990 World Record: 48.25, Marie-Jose Perec (France), 1996.
Koch has barely said a word about her career since retirement, but as the GDR's doping regime was so thorough, it's hard to imagine that she managed to completely elude some level of participation. She wasn't the only one likely to have been assisted, as 13 of the top 15 marks all-time come from 1979 to 1988. Perec set what could be considered a "clean record" with her Atlanta Olympic win in 1996, but she had drug shadows follow her in later years.
Does that mean that the 48.63 by Cathy Freeman of Australia in 2000 is the best-ever mark by a "clean" athlete?
800 meters:
• IAAF World Record: 1:53.28 by Jarmila Kratochvilova (CZE), 1983.
• Post-1990 World Record: 1:54.01, Pamela Jelimo (Kenya), 2008.
If you think that the questions about Caster Semenya and her sexuality are new, you weren't in the press section in Helsinki during the 1983 World Championships after the muscular Jarmila Kratochvilova (pictured above) triumphed in the 400 m and 800 m in about an hour!
The 800 meters all-time list still shows seven of the top-ten performances were made between 1976 and 1989, six of them by Eastern Europeans. Jelimo may well be the event's "clean" world-record holder.
100-meter Hurdles:
• IAAF World Record: 12.21 by Yordonka Donkova (BUL), 1988.
• Post-1990 World Record: 12.26, Ludmila Narozhilenko (RUS; later Engquist-SWE), 1992.

Bulgarians and Russians dominate the all-time list in this event, with Donkova having five of the top-ten performances ever, followed by Engquist (4) and one by Bulgarian Ginka Zagorcheva. Were they dopers?
Donkova and Zagorcheva never tested positive, but Engquist was banned in 1993 (her top-ten performances were in 1991-92), reinstated in 1995 and then married a Swede and was allowed to compete for Sweden in time to win the 1996 Olympic gold medal in this event.
Looking for a "clean" post-1990 record holder? Try the amazing Gail Devers, who ran 12.33 at the 2000 Olympic Trials in Sacramento.
4 x 100 m:
• IAAF World Record: 41.37 by the GDR, 1985.
• Post-1990 World Record: 41.47, United States, 1997.
The GDR had sprint aces Silke Gladisch, Sabine Rieger, Ingrid Auerswald and Marlies Gohr on their 1985 World Cup team to set the existing record, while the 1997 American squad that won the world championship consisted of Chryste Gaines, Marion Jones, Inger Miller and Devers.
4 x 400 m:
• IAAF World Record: 3:15.17 by the USSR, 1988.
• Post-1990 World Record: 3:16.71, United States, 1993.
The top two performances ever came in the 1988 Olympic final with the Soviets and the U.S. going 1-2. The GDR has the no. 3 performance ever from 1984, but the post-1990 "record" squad of Gwen Torrence, Maicel Malone, Natasha Kaiser-Brown and Jearl Miles-Clark was just about as good. Of note is the 3:17.83 time by the U.S. at the 2009 Worlds with Debbie Dunn, Allyson Felix, Lashinda Demus and Sanya Richards-Ross, sixth-best ever and quite similar to the team the Americans will field in Daegu. A "clean" world record in the making, perhaps?
The above seven events are clearly still in the shadow of track's pre-1991 Steroid Era. Then there are the strange cases of the women's 1,500 meters and 10,000 meters, under an even stranger spectre:
1,500 meters:
• IAAF World Record: 3:50.46 by Yunxia Qu (CHN), 1993.
• Post-1990 Non-Chinese World Record: 3:55.30, Hassine Boulmerka (Algeria), 1992.
Today's all-time list shows seven Chinese in the top ten, along with two 1980s-model Soviets and Romanian Paula Ivan (from 1988). The Chinese ascension in the mid-1990s was placed in disrepute prior to the 2000 Olympic Games, when six members of "Ma's Army" – the squad coached by Ma Junren – were suspended for positive tests and taken off the Chinese team, never to be heard from in track circles again.
So what of a "clean" world record? Amazingly, the top candidates are Boulmerka's gold-medal run at the 1992 Olympic Games in Barcelona and the 3:55.33 by Sureyya Ayhan of Turkey in the 2003 Ivo van Damme Memorial in Brussels. Kudos to these two women, under-appreciated performers whose achievements are all the more remarkable as they are from Islamic countries.
10,000 meters:
• IAAF World Record: 29:31.78 by Junxia Wang (CHN), 1993.
• Post-1990 World Record: 29:53.80, Meselech Melkamu (Ethiopia), 2009.
Perhaps the most suspect of all the women's records is the 29:31.78 from Wang, a mark which still remains more than 22 seconds better than Melkamu's second-best performance all-time. A quick look at the top dozen performances all-time shows 11 of these marks were made from 2002-09 by Ethiopians (6), Kenyans (2, one running for the Netherlands), a Brit and a Turk, and the woman who probably should get recognition as the Chinese national record holder: Yingjie Sun, who ran 30:07.20 for the bronze medal in the 2003 World Championships.
It's amazing how deeply the Steroid Era has impacted women's track events, and, sadly, the tale is just as tragic when reviewing the women's world records in the field events. That's coming up tomorrow.
(You can stay current with Rich's technology, sports and Olympic commentaries by following him at www.twitter.com/RichPerelman.)