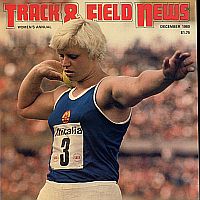 LOS ANGELES, Aug. 25, 2011 – "It's frustrating they are so out of reach."
That was American sprint star Allyson Felix on the women's world sprint records in a Wednesday story by the Chicago Tribune's Phil Hersh, who noted that "the women's world records in the 100, 200 and 400 — 10.49, 21.34, 47.60 — all were set in track's doping high times of the 1980s, and they seem unapproachable."
The women's field events are just about as bad. As noted yesterday, of the 21 primary women's track & field events on the program of the soon-to-start IAAF World Championships in Daegu, South Korea, 14 were set in the drug-addled 1980s or have an inauthentic smell from being set by members of the Chinese women's distance program that had six drug disqualifications in advance of the 2000 Olympic Games. In the women's field and combined events, all six events competed in throughout the '80s have records set in that decade.
The newer events, such as the pole vault, triple jump and hammer, are free from these issues; the vault and hammer were introduced at the 1999 World Championships and 2000 Olympic Games, and the triple jump a little earlier, at the 1993 Worlds and 1996 Olympics. The javelin specification was changed in 1999, with a new set of records; at the time the new spear was introduced, its all-time list was also dominated by a 1980s performer from Eastern Europe, the GDR's Petra Felke.
So how suspect as the five remaining women's field-event and combined-event records?
High Jump:
• IAAF World Record: 6-10 1/4 (2.09 m), by Stefka Kostadinova (BUL), 1987.
• Post-1990 World Record: 6-9 3/4 (2.08 m), Blanka Vlasic (CRO), 2009.
This is one event where the 1980s record holder can get some respect. Kostadinova was dominant, but on today's all-time list of the top 21 performances ever (6-9/2.06 m or better), she has 10 marks, the same number as Vlasic and the other post-1990 performers put together. Kostadinova, currently serving as the head of the Bulgarian National Olympic Committee, was simply way ahead of her time.
Long Jump:
• IAAF World Record: 24-7 1/4 (7.52 m) by Galina Chistyakova (URS), 1988.
• Post-1990 World Record: 24-7 (7.49 m), Jackie Joyner-Jersee (USA), 1994 (twice).
Chistyakova, Joyner-Kersee and GDR star Heike Drechsler all competed in the same era and the latter two on both sides of our dividing line of 12/31/1990. These three own the top ten performances of all time, but interestingly, three of the ten came after 1990 (two by Joyner-Kersee and one by Drechsler). The only troubling note in this event is that the best post-2000 performances have only reached 24-4 1/4 (7.42 m), by Russia's Tatyana Kotova in 2002 and then 24-0 3/4 (7.33 m) by countrywoman Tatyana Lebedyeva in 2004.
Shot Put:
• IAAF World Record: 74-3 (22.63 m), by Natalya Lisovskaya (URS), 1987.
• Post-1990 World Record: 71-2 (21.69 m), Vita Pavlysh (Ukraine), 1998.
The numbers speak for themselves here, with Lisovskaya and the GDR's Ilona Slupianek (now Briesenick; pictured above as the Track & Field News female Athlete of the Year for 1980) owing 13 of the top 15 marks all-time and 25 of the top 30. Pavlysh was banned for life by the Ukrainian federation in 2004. Next best is Russian Larisa Peleshenko with her 2000 best of 70-5 (21.46 m), after returning from a drugs ban from 1995-1999.
If you're looking for someone with a clean slate, how about Germany's three-time World Champion and 1996 Olympic champ Astrid Kumbernuss, with a best of 69-7 1/2 (21.22 m) in 1995? And, to be perfectly cynical, are we still looking for history's first "clean" 70-footer?
Discus:
• IAAF World Record: 252-0 (76.80 m) by Gabriele Reinsch (GDR), 1988.
• Post-1990 World Record: 235-2 (71.68 m), Yanling Xiao, China, 1992.
Marks from the 1980s take at least the first 23 places on the all-time performances list, all by athletes from Eastern Europe. Xiao had a thin international record, but was fifth in the 1996 Olympic Games in Atlanta.
To show the impact of the anti-doping movement in this event, the top mark so far this century is nearly 24 feet behind the world record: 227-7 (69.38 m) by 2004 Olympic champ Natalya Sadova of Russia in 2003 (and she was suspended for two years from 2006-08). Ouch!
Heptathlon:
• IAAF World Record: 7,291 by Jackie Joyner-Kersee (USA), 1988.
• Post-1990 World Record: 7,044, Joyner-Kersee, 1992.
Here is the only event in which the pre-1991 record holder and the post-1990 record-setter are the same. Joyner-Kersee's career lasted through 1997 and she was as thoroughly drug-tested as anyone during that time span, including four random tests in a two-month period in 1991. Her place as one of the greatest female athletes of all time seems quite secure.
Our discussion opened with a reflection on the credentials of baseball slugger Jim Thome, whose achievement in reaching 600 career home runs this month is colored in the eyes of some by the fact that he played in the "Steroid Era." In Olympic sports, the evidence is incomplete, and the IAAF rejected the idea of creating new records beginning with the year 2000.
So we are left with a mix of marks set under questionable conditions, just as swimming now has significant records issues with "composite" and "textile" suits. The moral may be to appreciate more the competitive rather than the statistical brilliance of today's stars, and how they measure up in their own era than against – at least in some instances – a chemically-engineered past.
(You can stay current with Rich's technology, sports and Olympic commentaries by following him at www.twitter.com/RichPerelman.)