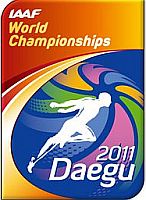 LOS ANGELES, Aug. 30, 2011 – The United States track & field team hasn't had an especially brilliant World Championships so far in Daegu, South Korea. The depressing facts showed:
• Only one finalist in the men's 100 m and 400 m in events where the U.S. is traditionally strong, if not dominant.
• No better than ninth in the men's pole vault.
• Less than hoped-for performances from stars like Nick Symmonds in the 800 meters, David Oliver in the 110-meter Hurdles, Sanya Richards-Ross in the 400 meters and Shalane Flanagan in the 10,000 meters. Not to mention that injuries have sidelined Tyson Gay, Jeremy Wariner, Bryan Clay and impacted the efforts of Jenn Suhr and Hyleas Fountain, among others.
After four of the eight days of track & field competition, the American team has nine medals, but could optimistically forecast a final total of about 25, which will clearly keep them at the top of the standings. And there have been heartening performances from sprinter Carmela Jeter, shot putter Jillian Camarena-Williams, a barely-in-shape LaShawn Merritt and decathletes Trey Hardee and Ashton Eaton.
If this were baseball, or football, or basketball, or soccer, you'd been seeing some close questioning of the team's head coach, especially on NBC and Universal Sports. Can you even name the head coaches of the American men's and women's teams?
Give up? It's Vin Lananna for the men and Connie Price-Smith for the women.
Now that you know, maybe it's just as well that you don't. One of the striking aspects of the pre- and post-event interviews in Daegu is the total irrelevance of the national team coaches and the continuous referrals to personal coaches, like John Smith, Bobby Kersee and even former sprint star Harvey Glance, who tutors Grenada's 400-meter world champion Kirani Jones (who competed for Glance at Alabama this year).
And that's our sport today. A bunch of individuals who are just as likely to get their workouts via e-mail as from a coach who sees them daily, whose racing schedules are set by agents they hear from by telephone, text message and voice mail and a few family and friends who may be the only ones with them for their daily workouts, often at a local high school track.
For those who know the joy of teammates, it's a sad reality really. But if the goal of USA Track & Field is to maximize its medal count in the World Championships and the Olympic Games – remember ex-C.E.O. Doug Logan's "Project 30″ goal for London? – it might be better off dropping any pretense of trying to make track & field a higher-profile sport and maybe just forget about finding a chief executive at all.
Under the current structure, there is accountability for the performance of the American track team at USATF in the person of Chief of Sport Performance Benita Fitzgerald Mosley. And there is direct responsibility for the always-exciting American relay circus in national relay coach Jon Drummond.
Why not just take whatever revenues the USATF receives and hand it out to athletes and coaches. Forget about trying to put on a bunch of track meets to get people interested in the sport.
For the most part, the athletes don't seem to care anyway. Look at this year's schedule, with most American stars running very few events prior to the U.S. Nationals in June and then the IAAF scheduling a total of 13 Diamond League or World Challenge meet days in the 87 days prior to the World Championships!
Just like NFL pre-season games, no one wants to run any more for fear of getting hurt. Just train, train, train and get to the Nationals, so you can make the Worlds team. Then run only enough to maintain some race sharpness, satisfy your sponsors (if you have any) and collect enough appearance and prize money for living expenses before going home to spend several weeks in training for the Worlds. That's what our sport is now . . . not only in the U.S., but for most of the world. Except for two meets a year – the Nationals and the Worlds – the whole season is the equivalent of the NFL's pre-season.
Thus, is it any wonder that the big money – in television, sponsorships and ticket sales (have you noticed that huge sections of seats in the second tier of the Daegu Stadium are covered?) – goes to sports which have a well-defined regular season, followed by a climatic playoff season?
But that's not track & field, or swimming, or gymnastics today. In track, USATF is being run by three committees in concert with Chief Operating Officer Mike McNees. Twenty-five medals is pretty good; maybe it should stay that way.
(You can stay current with Rich's technology, sports and Olympic commentaries by following him at www.twitter.com/RichPerelman.)