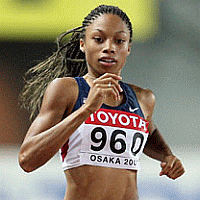 LOS ANGELES, May 11, 2012 – The headline from today's Diamond League meet in Doha, Qatar was Justin Gatlin's sensational 9.87-9.88 win over Jamaican star Asafa Powell in the men's 100 meters. But among a whole series of other compelling results was this stunner in the women's 100 meters:
1. Allyson Felix (USA), 10.92
2. Veronica Campbell-Brown (JAM), 10.94
3. Shelly-Ann Fraser-Pryce (JAM), 11.00
(wind legal: +0.7 meters/second)

So, with just 77 days before the Opening Ceremonies of the Games of the XXX Olympiad in London, the hard choices for Felix and her legendary coach, Bobby Kersee, are here:
(A) Run just the 200 meters?
(B) Run the 200 and 400, as in 2011?
(C) How about the 100 and 200 instead?
There will be multiple factors that will go into the decision, not the least of which will be Felix's overall health and fitness at the time of the Trials. Some of the others:
• Olympic time schedule:
The decision between a 100/200 and 400/200 double isn't made much easier by looking at the Olympic schedule. For a 100/200 double, Felix's racing schedule would be:
100 m heats: 3 August – 7:05 p.m.
100 m semis: 4 August – 7:35 p.m.
100 m final: 4 August – 9:55 p.m.

200 m heats: 6 August – 7:20 p.m.
200 m semis: 7 August – 8:25 p.m.
200 m final: 8 August – 9:00 p.m.

That really isn't much different than the 400/200 double, which does include one more round, but no more than one race on any day:
400 m heats: 3 August – 12:00 p.m.
400 m semis: 4 August – 8:05 p.m.
400 m final: 5 August – 9:10 p.m.

200 m heats: 6 August – 7:20 p.m.
200 m semis: 7 August – 8:25 p.m.
200 m final: 8 August – 9:00 p.m.

There is no rest day between the 400 m final and 200 m heats as there would be between the 100 m and the 200 m.
• Olympic Trials time schedule:
The Trials pose even less of a problem for Felix, as the mid-meet rest days offer her plenty of time off to prep for the 200:
22 June: 100 m heats/400 m heats
23 June: 100 m semis & final/400 m semis
24 June: 400 m final

28 June: 200 m heats
29 June: 200 m semis
30 June: 200 m final

Felix would be favored to make the U.S. team in any events she chooses, and is the unquestioned favorite in the 200; she has plenty of competition in the 100 (starting with reigning world champion Carmelita Jeter) and the 400 (starting with former world champ Sanya Richards-Ross).
• Prospects:
Felix and Campbell-Brown have traded the top spot on the medal stand in the 200 meters and the Olympic Games and World Championships since 2004, with Campbell-Brown winning Olympic gold in 2008 and 2008 and at the 2011 Worlds. Felix won the world title in 2005, 2007 and 2009 and Olympic silvers in 2004 and 2008, but faded to a bronze in the 2011 Worlds after finishing second in the 400 m there.
They're essentially co-favorites for London.
Campbell-Brown is almost sure to run the 100, where she was the 2007 World Champion and won silver in that event in 2011. Fraser-Pryce is the defending Olympic champion, and then there is the powerful Jeter, who stormed past everyone in 2011 and was a convincing winner in the World Championships.
Of further note is that Felix set her 100 m lifetime best today in Doha at 10.92, and while the season is still young, she is still well-back of the personal bests of Jeter (10.64 '09), Fraser-Pryce (10.73 '09) and Campbell-Brown (10.76 '11), not to mention Jamaican Kerron Stewart (10.75 '09) and Kelly-Ann Baptiste of Trinidad & Tobago, who has run 10.86 already this season behind Jeter (10.81) at the Jamaica Invitational. Just medaling in the 100 will be very, very tough.
The picture in the 400 is much more confused. Richards-Ross ran a superb 49.5 relay leg at Penn, and has a 50.11 run behind Jamaica's Novlene Williams-Mills (49.99 world leader; PR of 49.63 in '06) at the Jamaica Invitational to her credit this season. Defending world champion Amantle Montsho of Botswana (50.52; PR of 49.56 '11) and defending Olympic champ Christine Ohuruogu (50.92; PR of 49.61 '07) haven't shown much so far this season, but it's early. No one knows what fast-on-the-clock, but light-on-medals Russians like Anastasiya Kapachinskaya (49.35 last year) might bring. So the field is fairly open; Felix ran a lifetime best of 49.59 last year, but it was only good for silver in Daegu and took way too much out of her for the 200s that followed.
• What's the goal?
Ultimately, Felix will have to decide what her goals are for the London Games. Still just 26, she has at least one more Olympics to look forward to and if she wants to win the 200 m gold above all, she'll be best off running that alone, or in concert with the 100.
Realistically, running the 100 could set her up for four medals, in both sprints and both relays, but it's hard to believe – today – that she would win the century.
If, however, she has her eye on two individual goals and just one relay, then the 400/200 double is still out there. She has been through it once and would go through it again in Eugene on a more relaxed schedule in late June. If she is in good-enough shape, she can win the 400 and have a shot at the Jamaicans in the 200 as well, then on to a likely 4×400 m relay win.
Can Kersee get her there? Felix is a thoughtful and disciplined competitor, so she is unlikely to reveal much until she chooses her events for the Trials: the entry deadline is June 18, with final declarations due on June 20. The racing starts two days later.
[Update: At the May 13 U.S. Olympic Media Summit in Dallas, Felix was asked about a double and after acknowledging she would like to run two events, but as to which, said "Bobby will make that decision when we're a little closer."]
(You can stay current with Rich's technology, sports and Olympic commentaries by following him at www.twitter.com/RichPerelman.)