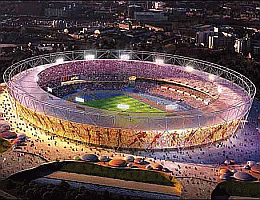 LOS ANGELES, Nov. 24, 2011 – The recent decision of the IAAF Council to award the 2017 World Track & Field Championships to London is a victory for one group that has no representation on any IOC, IAAF, USATF, NCAA or other Olympic or professional sports board:
Spectators.
The lowly ticket-buyer, who actually attends the competition, was rescued from a literal frying pan in Qatar's capital of Doha, to instead be treated to a much more manageable – albeit expensive – experience in London in the country which helped develop modern-day track & field.
The decision was made much tougher by Doha's offer to cover the $7.2 million in World Champs prize money usually paid by the IAAF (matched by London in its formal presentation) and a reported $29 million in other inducements of sponsorship from the Qatari government, to be paid over the next five years. And so the closeness of the final vote of 16-10 cannot be considered a surprise.
But what of the spectators?
Doha has become a magnet for major sporting events of late, powered by its oil and gas wealth, but consider the dates of those events:
• 2005: December 1-10 – West Asian Games
• 2006: December 1-15 – Asian Games
• 2011: January 7-29 – Asian Football Confederation Asian Cup
• 2011: December 9-23: Pan Arab Games
A quick look at the weather chart in the Wikipedia entry for Doha shows why these events are held in the off-season for most Olympic sports:
• Jan.: Avg. High = 71.1; Avg. Low = 55.0 F
• Feb.: Avg. High = 73.4; Avg. Low = 56.7 F
• Mar.: Avg. High = 80.2; Avg. Low = 62.1 F
• Apr.: Avg. High = 89.4; Avg. Low = 69.1 F
• May: Avg. High = 100.8; Avg. Low = 77.0 F
• Jun.: Avg. High = 106.2; Avg. Low = 81.9 F
• Jul.: Avg. High = 106.7; Avg. Low = 84.4 F
• Aug.: Avg. High = 105.3; Avg. Low = 84.0 F
• Sep.: Avg. High = 101.5; Avg. Low = 79.7 F
• Oct.: Avg. High = 95.4; Avg. Low = 74.1 F
• Nov.: Avg. High = 85.1; Avg. Low = 67.1 F
• Dec.: Avg. High = 75.4; Avg. Low = 59.0 F
FIFA did award the 2022 World Cup to Qatar, but talk of moving the event to January began as soon as the votes were counted and the cry for a cooler time of year will only get louder was time goes by.
Doha's projected IAAF World Championships dates in late September would still subject everyone coming to the competitions to 100-degree daytime temperatures, "cooling" only to around 80 degrees at night. There are good reasons why natives of this region wear white, loose-fitting clothing!
Moreover, even if most finals sessions were held in the evening, the Gulf weather makes it difficult to be all that active during the daytime. Some Olympic federations of less-popular sports have found it necessary to go to so-called "exotic" locations because the event is sponsored by the government, or a major corporation. There was no hiding the fact that the IAAF's 2011 Worlds in Daegu, Korea was in the home city of Diamond League sponsor Samsung. Attendance was spotty until the final couple of days and you could read stories of nearly-universal discontent with the food service in the athlete's village in major Jamaican newspapers on almost any day of the meet. That shouldn't be the case in London, which should be a tourist magnet for the 2017 championships.
Does this mean Doha should not host the Worlds? Not at all.
I have been to the Khalifa Stadium, where the track & field events were held during the highly-successful 2006 Asian Games. It's a modern facility, surrounded by a huge plaza, with excellent sightlines and all the required on-field facilities. But it's too hot for a summer event.
Even the International Olympic Committee recognized this when it refused to qualify Doha as a finalist for the 2016 Olympic host city election because its proposed dates were outside of the IOC's desired mid-summer timeframe. In fact, the rejection of Doha's otherwise well-developed application caused the IOC to create a new rule which allows potential applicant cities to request special permission to propose dates outside of the mid-summer window for future Games.
Doha organized the 2010 World Indoor Championships in its Aspire Dome in March of that year, to generally good reviews. If the Qataris and the IAAF get clever, an "Athletics Winter Festival" that combines cross-country or road running races along with field events could be an interesting new attraction permanently based in the Emirate.
But for the IAAF's World Championships, the best time is in August and full houses will be on hand in London's Olympic Stadium (pictured above) in 2017, capping a summer's day of sight-seeing in one of the globe's most historic cities. The real winners in the IAAF's selection of the 2017 World Championships venue are those who will pay to be in attendance.
A pretty good result considering none of them even had a vote.
(You can stay current with Rich's technology, sports and Olympic commentaries by following him at www.twitter.com/RichPerelman.)