LOS ANGELES, Sep. 6, 2015 – Experience is a great teacher, but desperation is a better motivator.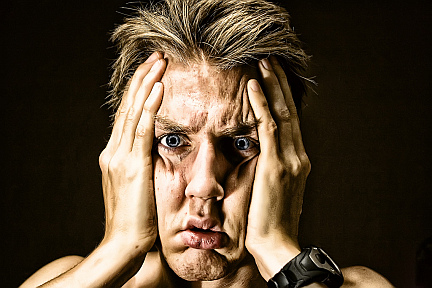 Here was the dilemma: as co-senior director of media operations for the 2015 Special Olympics World Games in Los Angeles, I knew we had to find a reliable, no-cost (or at least, low-cost) way to communicate with the record number of news media we had coming to cover the event.
There would be advisories for news conferences, news releases about issues during the Games, statements in case of problems and so on. And with 1,728 credentialed media coming from 79 nations, there would be no way to create a personalized, or even a group solution to communications, with so many different levels of technical ability and equipment being used. So we not only had to find a reliable way to communicate, but also to "train" the media to look for our messages in an easy-to-use format.
There were lots of options:
The LA2015 mobile app was one possibility. But the app was really for the public and couldn't be set up primarily for media use.
Text messaging through a mass-messaging mobile app like GroupMe. But how many media would know how to download the app and be able to join the group? Probably not enough.
Using mass-audience sites with mobile apps like Facebook, Twitter and SnapChat were possibilities. But having special media accounts for these social-media giants would inevitably cause confusion with our own Digital Strategy team, which was revving up to serve an enormous, worldwide audience on its own.
None of these were optimal solutions. We needed something fairly simple, universally accepted, easy to control and update and as accessible on a smartphone or tablet as on a laptop computer.
E-mail!
This wasn't a perfect solution, either, but it was low-cost, universally used and easy for us to send to whomever we wanted. The LA2015 Web site team already had use of a service to send mass e-mails, which we could adopt for media use by copying over the e-mail addresses of the media who had registered for the event, at no added cost to the organizing committee.
The key issue to be faced was how to arrange the messaging and delivery protocol so that the e-mails sent were impactful instead of annoying. For this, we found a good solution which can be widely replicated to other events in the future:
We created a "Media Communique" which was designed to capture all of the announcements, news and reference data we wanted news media to have in-hand.
Using a standard layout, in the nearly-universally-accepted PDF format, allowed us to get news media used to the Communique, and to be able to find what they wanted in it comfortably.
By introducing the Media Communique early enough, news media would accept it as a reliable tool for information. If needed, a special bulletin could always be sent separately.
By providing information in a single package on a daily basis, requests for sending low-impact announcements could be eliminated and all items could be included in the Media Communique.
By beginning the Media Communique service early enough, we thought we could get media to rely on it as the World Games approached, eventually becoming a daily source of news and information sent to news media early each morning (Los Angeles time).
Creating the format was more art than science, and the launch was delayed because of other, pressing issues inside the organizing committee. But the first issue was distributed on Monday, June 8, and followed up with Monday morning mailings on June 15, 22, 29, July 6 and 13.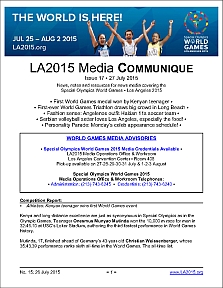 Reaction was excellent and requests to be added to the mailing list were common. With the Delegation Welcome Center opening on July 21, frequency was increased to three times during the week of July 13, adding July 15 and 17. Beginning on Monday, July 20, the Media Communique was published daily, right through the Games, with the final edition on Monday, August 3. There were 24 issues in all, plus six advisories and two LA2015 statements sent on an emergency basis, primarily dealing with athletes who had gone missing from their delegations.
By the time the Communique had gone to daily circulation, we were sending to three different lists: credentialed media, LA2015 staff and "others," a collection of everyone who had asked to be added. This totaled about 2,000 names.
But the surprise was not the positive reaction of the recipients, but the viral uses made by recipients who sent them on to others. After the Games were concluded, it became clear that the Media Communique, although designed for media, was actually being used as an all-in-one information source that was circulated to 4,000 or more additional recipients on a daily basis.
One Special Olympics official replied to the delivery of the July 27 issue thus: "Been too busy to say what I've been thinking: these are fantastic!"
Ian Payne of Britain's ITV sent his own congratulations: "I've just returned to the UK after 8 days covering the Special Olympics World Games in Los Angeles for ITV … I'd like to complement and thank you for an incredibly well-run tournament and superb media communications."
The Media Communique fulfilled its role and then some. But it also showed that the high-tech solution is not always the best one. Low-tech (and sometimes no-tech) still has its place.
(If you're interested in assistance with your mega-event, go ahead and Contact Us right away!)