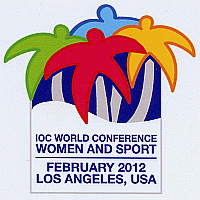 LOS ANGELES, Feb. 18, 2012 – The fifth International Olympic Committee World Conference on Women and Sport concluded today at the elegant J.W. Marriott Hotel at L.A. Live in downtown Los Angeles on an upbeat note after three days of ceremonies and discussions. Beyond the summary press release, the program reached two key conclusions:
(1) That women have essentially – but not completely – reached equality on the field of play at the Olympic Games, and
(2) That the focus for the future must be on electing more women to the governing bodies of sport at the national and international level.
On the point of equality on the field of play, the point was raised repeatedly that with the inclusion of women's boxing, all of the sports in the 2012 Olympic Games will have both male and female participation, and that women competitors will comprise about 45% of the total. This seemed to be a satisfactory ratio for most of the conference leadership, with the idea that the totals will get closer to 50/50 over time.
On the issue of including more women on commissions and executive boards of national sports federations, National Olympic Committees (NOCs) and International Federations, the progress has been much slower. A survey by Loughborough University (Great Britain) – commissioned by the I.O.C. – showed that among 110 respondent National Olympic Committees:
• An average of 26.2% of the NOC Executive Committees in Oceanian countries were women (meeting the I.O.C.'s 20% goal for 2005);
• An average of 20.5% of the NOC Executive Committees in the Americas were women (meeting the I.O.C.'s 2005 goals);
• An average of 14.1% of the NOC Executive Committees in Europe were women (below the I.O.C.'s target);
• An average of 12.6% of the NOC Executive Committees in Asia (including the Middle East), were women (below the I.O.C.'s target).
• The International Sports Federations weren't much better, with female participation on Executive Committees totaling just 12.4% for the Winter Olympic federations, 16.6% for the Summer Olympic federations and an I.O.C.-compliant 22.6% for federations of non-Olympic sports.
The Conference's opening ceremony at the Club Nokia on the L.A. Live "campus" struck an upbeat note, following the program theme of "Together Stronger: The Future of Sport." The key comment came from tennis legend Billie Jean King during a short panel discussion toward the end of the ceremony when she noted that men and women must work together to achieve more inclusion and more equality across the board.
The presentations over the following days did not necessarily stick to that script.
For me, the key discussion session came on Friday, entitled "Government, Legislation and Attitudes" chaired by I.O.C. member Lassana Palenfo (Cote d'Ivoire, formerly known as the Ivory Coast). During this session, four speakers discussed how women might become more involved in sports governance: Nancy Hogshead-Makar, the great Olympic swimmer of the 1980s who is now a law professor and prime advocate for Title IX enforcement for the Women's Sports Foundation; Marit Myrmael of Norway, a member of the I.O.C.'s Women and Sport Commission; Danish N.O.C. president Niels Nygaard and Paralympian Ann Cody, who spoke specifically to the issues faced by physically challenged athletes.
Their answers?
• For Hogshead-Makar: "it doesn't happen without a mandate" as in Title IX.
• For Myrmael: quotas.
• For Nygaard: no quotas, but "women in executive positions must reflect the number of female athletes" according to their membership or other participatory measurement in sports in each country.
• For Cody: also a required mandate for women, as well as the disabled, in governing bodies.
It was interesting that of the four panelists – all from first-world democracies – the three women argued for laws forcing their inclusion and the one male rejected quotas.
Hogshead-Makar, one of the nation's most emphatic proponents of Title IX's virtues who rejects any suggestion that it has had any negative impact on men's collegiate sports programs, showed a series of slides which demonstrated that the number of men participating in NCAA sports programs has increased at the same time that women's participation has also zoomed (therefore, no negative impact). She was about to launch into a tirade against those who blame Title IX for killing men's collegiate programs when she ran out of time and was cut off by Palenfo, who happens to hold a black belt in judo. But she was absolutely certain that the only way to get women into Executive Committee positions was to require it.
Myrmael prefaced her remarks by noting that she was challenged to be "provocative" and used the experience of her own country – Norway – to showcase that quotas can work. According to her presentation, the country adopted a rule requiring that public corporations must have a minimum of 40% of their boards of directors be comprised of women, and that such change must be adopted within five years. The sky didn't fall and the results have not been calamitous as were predicted by some. Her conclusion: "We must agree today to implement a quota for tomorrow."
These comments were not too surprising coming from women that (a) advocate for women's rights for a living, in Hogshead-Makar, and (b) from a country with a very high degree of educational and genetic homogeneity in the population in Myrmael. The latter's tone-deafness to the impact of diversity in culture was revealed in a question from a Portuguese delegate who asked how quotas might be proposed in a Latin country, where the cultural roles of females is different than in Scandinavia. Myrmael's reply was that she didn't see any reason why it should be a problem to impose quotas there, any more than in Norway.
I guess the whole world looks like Norway today.
King's remarks at the opening ceremony become more curious, and less meaningful as the conference wound on. Her encouragement to both genders to work together gave way to calls from these speakers for laws, regulations and requirements.
Hardly a constructive way to move forward. One interesting suggestion from the floor at the end of the Government, Legislation and Attitudes session was to penalize NOCs and International Federations which do not comply with the I.O.C.'s mandates for female participation with reduced funding. This sounds tempting, but also won't solve the problem, since in every country except the United States, the national government funds the sports programs and the I.O.C.'s Solidarity grants are usually for single-program add-ons.
More likely to succeed might be concepts modeled around aspirational ideas:
• If National Olympic Committees wish to compete in the Olympic or Olympic Winter Games, they must – at a minimum – include both men and women on their teams and must have the participation of both men and women in their Executive Committee and officer ranks. (There might have to be waivers for Winter Games participation by women due to the small number of events, but over time this would not be necessary.)
• The I.O.C. could reform itself by expansion, creating a new form of membership which would include two delegates from each National Olympic Committee – one man and one woman for a 410-person "Olympic Assembly" – which would be responsible for conducting I.O.C.-funded programming in their country to promote sports and sports leadership, and who would automatically be part of the country's National Olympic Committee, ensuring female representation.
In reference to the American system of government, this would be the "House of Representatives" while the existing I.O.C. membership of 110 directly-selected members, NOC, IF and athlete representatives would function as the "Senate." This larger body would create a new level of activism worldwide for the I.O.C. and have the potential to substantially increase its reach and prestige. Thanks to the careful work of current President Jacques Rogge, the I.O.C. has enough funding to do this and would be able to engage more sponsorship partners in each country through these Olympic Assembly programs.
In this way, a new generation of male and female leaders in sport will be created, instead of mandated. That really would be "Together Stronger."
(You can stay current with Rich's technology, sports and Olympic commentaries by following him at www.twitter.com/RichPerelman.)