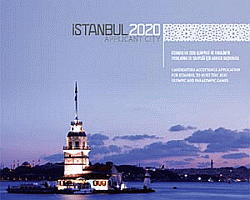 LOS ANGELES, Apr. 6, 2012 – Many bids for the Olympic Games start out as an idea from a civic group, a mayor or a dreamer. And most fail.
But sometimes, through luck, persistence, or – lost likely – circumstance, a bid which did not appear likely to succeed finds itself in a position to win the ultimate prize: hosting the Olympic Games.
In a competition with Madrid, Spain; Tokyo, Japan; Baku, Azerbaijan and Doha, Qatar, it may be Istanbul's turn.
The International Olympic Committee will make its decision on the host city of the 2020 Olympics on 7 September 2013 after narrowing the list of Applicant Cities on May 23 of this year. This is old hat to the Istanbul organizers as this is their fifth Olympic bid in the last 19 years:
• 2000: Qualified as a Candidate City, but lost in the first round of the final voting (7 votes), won in four rounds by Sydney, Australia (1993);
• 2004: Eliminated as an Applicant City; the final vote was won by Athens (1997);
• 2008: Qualified as a Candidate City, but lost in the second of two rounds of voting (17 votes in the first round, then 9 in the second round), won by Beijing (2001);
• 2012: Eliminated as an Applicant City, the final vote was won by London (2005).
The Turkish economy is fairly strong, especially compared to the European nations, and the bid's concept for venues is reasonable, projecting 36 venues in four clusters: 11 existing, 10 already planned, five temporary and 10 to be built.
But there is no requirement for a winning bid to be perfect; it just has to get more votes than any other. In today's environment, Istanbul has a chance, to wit:
• While the Turkish economy grows at a reported 8% per year, Spain suffered from a serious lack of interest in an attempt to sell more debt and its financial worries are deepening. With Rome's bid folded due to economics, this past week's headlines only remind potential Madrid voters of the country's continuing fiscal problems.
• Baku and Doha have interesting stories to tell, but the I.O.C. members have not been blind to the negative fallout from FIFA's selection of Qatar for the 2022 World Cup, and questions of weather still plague both bids thanks to high winds in Baku and high temperatures in Doha, even for a Games in October. One major plus for both: the Games have never been to that area of the globe. More on this later.
• Tokyo's bid is well considered, but the Japanese economy is sluggish, with a growth rate projected at 2-3% with continuing problems from a lack of power after the earthquake, tsunami and Fukushima nuclear disaster of 2011. Besides, the Games were in Beijing as recently as 2008 and Winter Games were held in Nagano, Japan in 1998 and will be in Pyeongchang, South Korea in 2018. Not quite the right time for Tokyo yet.
• Above all else, Istanbul has a compelling story to tell:
(1) It has been a patient bidder: this is its fifth bid, and the I.O.C. is wont to favor bidders who keep coming back.
(2) It has shown some actual organizing ability, most recently in the well-regarded IAAF World Indoor Track & Field Championships in March, held in the brand-new Atakoy Athletics Arena. Attendance was good and the competitions were organized at a high level.
(3) In a time when the international tone has been to go to new places, Istanbul offers the I.O.C. a dramatic opportunity: to place an Olympic Games in an Islamic country for the first time ever. . . without the necessity to go to the heat of the Arabian Peninsula.
Going where the Games have never been before is the current theme in the Olympic Movement. The I.O.C. started this off by selecting – against some strong protests – Bejing as host in 2008 and then after the compulsory return to Europe (London) for 2012, to South America for the first time in Rio de Janeiro for 2016.
The selections of Sochi, Russia for the 2014 Winter Games and Pyeongchang for 2018 have continued this trend, bringing the Winter Games to Russia and to the Asian mainland for the first time.
FIFA also pitched in by selecting Qatar for 2022, although it is hard to imagine high-level soccer being played in mid-summer heat.
By selecting Istanbul, the I.O.C. can check off "Muslim host nation" on its to-do list and bring the Games to a country which is both ancient and modern, that looks to Europe and Asia and has styled itself a bridge between East and West. There is a lot to like about this from a political standpoint, and although he will shy from pointing this out, outgoing I.O.C. President Jacques Rogge could also add to his legacy by having the election of China and Turkey as Games hosts on his watch.
Moreover, Istanbul's location between Europe and Asia significantly expands the number of geographically-based supporters it can access, far more than any other candidate.
As with any country, there are problems with choosing Turkey as host, of course. The government is regularly pilloried for authoritarian rule and the lock-up of dissenters; relations with its Kurdish minority and its history of forced displacement of Armenians during World War I that led to hundreds of thousands of deaths are constant issues, and there are the problem children of Lebanon, Syria and Iran to its south and southeast.
But Istanbul has a chance, the best it has ever had, against what is becoming a weaker and weaker field as the European economy worsens. The I.O.C. can activate a significant part of its agenda for inclusion and fair play in an area which has been resistant . . . if the Turks can maintain their momentum and not give I.O.C. members a reason not to vote for them.
(You can stay current with Rich's technology, sports and Olympic commentaries by following him at www.twitter.com/RichPerelman.)