LOS ANGELES, Jun. 30, 2011 – There aren't enough tickets to go around for Olympic-mad Londoners and there are plenty of people who are angry about it. But we're only at the beginning of a long saga about the 2012 Games and tickets that won't end until the Closing Ceremony.

According to reports from Reuters and the BBC, the London organizers have estimated their inventory at about 8.8 million tickets for the 2012 Games. Of that, 6.6 million (75%) are slated for public sale:
• About 3 million tickets were sold to purchasers in the "first round," where 1.8 million applications for a total of 20 million tickets was received.
• About 2.3 million tickets are allocated for sale in the second round (June 24-July 17).
• About 1.0-1.2 million tickets will be offered in December 2011.
But there are still another 2.2 million out there, which will be distributed among the competing athletes attending the Games, to International Federations and National Olympic Committees, to officials (including members of the International Olympic Committee), news media, and Olympic sponsors. What about those?
This is where people get huffy, notably when they see packed stadiums, but rows of empty seats in the Olympic Family and press sections. How is this possible? Because some of these remaining seats may not be ticketed at all, as the remaining 2.2 million seats are split into two categories:
Tickets sold to Olympic-affiliated groups:
This makes up the majority of the 2.2 million tickets not sold to the British public, and are allocated to:
• Sports federations like the IAAF for athletics and FIFA for soccer; each gets a fairly small number for its own use at its own venue(s);
• National Olympic Committees, which generally sell these tickets to fans from their own countries, especially family members of their own Olympians and national sponsors;
• Sponsors of the I.O.C. and the organizing committee, each of which gets an allocation, of which some or all are paid for;
Seats reserved for accredited persons:
These are the seats that are often unused at Olympic Games and get people – especially those who couldn't but tickets – crazy. These seats are not necessarily ticketed, but for most sessions can be accessed by one of three groups:
• Athletes, coaches and team members: a section is reserved in each stadium for non-competing athletes. Some of these sessions will be ticketed and some will be open for team members with the proper accreditation badge for that venue. These sections are usually pretty full, and there aren't many folks who will deny athletes a chance to cheer on their teammates.
• Press, which generally access reserved sections in each venue by showing their accreditation and without needing a ticket. These sections can be empty for some sessions – especially preliminaries – and this will be pointed out with great vigor by those who don't have tickets. The high-demand sessions in every sport and the Opening and Closing Ceremonies will require news media to obtain a (free) ticket, as the space is rationed to ensure that the media sections are not overcrowded. Rights-holding radio and television broadcasters, for the most part, pay for commentary positions to be installed for their announcers.
• Olympic Family, including the I.O.C. members and the heads of the sports federations, N.O.C.s and sundry others. At most Games, these sections have been open and the properly-credentialed people could just show their badge and take a seat. But in recent Games, those that can access a seat have been severely limited and many of these seats are, in fact, sold to federation board members and other Olympic-related executives.
Although there are lots of Brits who are unhappy that they didn't get the tickets they wanted, the I.O.C. and television broadcasters are quite happy. For the first time since Sydney, they'll have full stadiums and be spared the embarrassment of having to show row upon row of empty seats in multiple venues.
On the other hand, the enormous demand for tickets will likely ensure that those allocated to sports federations, N.O.C.s and sponsors are going to be used, or re-allocated within those groups and not sold to the public. Before Londoners start screaming, it's worth noting that the likely buyers are N.O.C.s, trying to obtain tickets for Olympic athlete family members.
That leaves the accredited sections for athletes, media and Olympic Family. And that is where the tug-of-war inside LOCOG is ongoing right now. Having worked with five different organizing committees, I can tell you that there is plenty of pressure being applied to each department responsible for these seats:
• Athlete seating will be questioned, with heavy pressure to limit the size of these sections. Too small and the athletes will howl that they can't support their teammates; too big and you have rows of empty seats. Negotiations inside LOCOG will continue on this issue for some time.
• Press seating consists of two styles: those with permanently-installed tables and wiring for journalists to watch the events and file their reports, and non-tabled seats which are for journalists not filing from the site, non-rights-holding radio and television reporters (example: ESPN) and overflow.
The tabled seats will be, in all cases, reserved for the press and not subject to sale. But there will be enormous pressure to cut down on the number of non-tabled seats, which could easily be sold. It isn't easy to forecast exactly which journalists will go where on any specific day, but LOCOG has a highly-experienced, well-respected press chief in Jayne Pearce and a veteran press operations team. There are fairly good methods available to tailor press seating allocations, but not until the actual schedule of which teams are competing at what time is finalized, which won't be until the late spring of 2012.
• Protocol seating for the Olympic Family is the most problematic of all. Forecasting demand in these seating sections is much more art than science. The London organizers will end making an educated guess and keep these allocations as small as they dare.
The result of all this is that even after the final mass sale of tickets projected for December, small numbers of tickets will pop onto the market up to and even during the Games, for multiple reasons, including, but not limited to:
(1) Fire and safety officials may decide that upon seeing the actual layout of a venue, that a blocked area can be opened, allowing additional seats to be sold.
(2) Planned locations of equipment and wiring change during installation, and may open previously blocked or obstructed-view seats.
(3) Same for television, as the placement of cameras and equipment will change, potentially yielding added seats.
(4) Groups planning to attend the Games suddenly cancel for any number of reasons and their tickets become available; consider the hypothetical plight of a group planning to attend the Games if a natural disaster struck their country (such as in northern Japan earlier this year).
(5) Session-specific allocations may be given back for public sale from athlete, press or protocol areas if a high-profile team is knocked out. Example: the U.S. men's basketball team is defeated in the quarterfinal round, lessening the demand for media attendance in the semifinal and final games.
And on and on; those who are inquisitive and persistent have the best chance of becoming the 2012 Olympic equivalent of Charlie Bucket, the Wonka golden-ticket-finding-youngster in Charlie and the Chocolate Factory. The truth: the last sale of the last Olympic ticket in London will likely take place during the Closing Ceremony.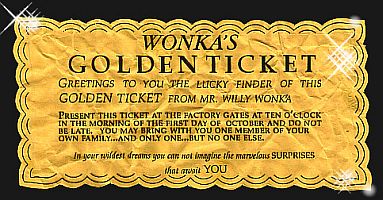 (You can stay current with Rich's technology, sports and Olympic commentaries by following him at www.twitter.com/RichPerelman.)