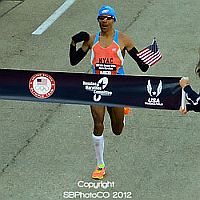 LOS ANGELES, Jan. 15, 2012 – UCLA's legendary basketball coach John Wooden created one of sport's greatest dynasties, winning 10 NCAA championships in 12 years from 1964-75. His legacy as a teacher and winner has continued and enlarged, but it is still felt most strongly on the UCLA campus, where he coached for 27 years.
The most tangible aspect of his legacy is his "Pyramid of Success," which he developed to encapsulate the elements he felt contributed most to what he considered success to be; a copy is posted in almost every coach's office at UCLA today. At the very top is "Competitive Greatness," which he defined as:
Perform at your best when your best is required. Your best is required each day.
So it was for a 5-foot, 7-inch tall, naturalized American citizen and UCLA alumnus named Meb Keflezighi, who won the U.S. Olympic Marathon Trials in Houston last Saturday. (Photo courtesy Basil Honikman/SBPhoto Co.)
Given his achievements – Olympic silver medalist in the marathon in 2004, former American record holder in the 10,000 m, four-time NCAA champion at UCLA and more – his victory in Houston was not much of a surprise.
But it should have been.
In a time when the marathon record book is being rewritten, and Keflezighi's then-lifetime best of 2:09:13 ranked only in a tie for 94th place on the IAAF's year list for 2011 – five and a half minutes behind new world-record holder Patrick Makau of Kenya's 2:03:38 – he confidently finished 22 seconds ahead of Ryan Hall (who ran 2:04:48 in Boston in 2011) and 39 seconds in front of Abdi Abdirahman (2:08:56 in 2008).
Moreover, Keflezighi's 2:09:08 – a very modest time that would have placed him 90th on the IAAF's 2011 world list – was a new lifetime best.
His win was no fluke. As Amy Shipley of the Washington Post wrote of Keflezighi and women's winner Shalane Flanagan:
The pair ultimately took charge in two professionally executed, respectably paced, coolly run races that rewarded the athletes that pushed hard from the start and left no doubt about who deserved tickets to this summer's London Olympic Games.
That bodes well for Keflezighi going into London, where the circumstances will be much different than the speed courses which make up many of the world's most famous marathon routes today:
• The 2012 Olympic Marathon route will be a four-lap race on a course considerably different from the annual London Marathon, even though both finish in central London. Tactics will be at a premium rather than speed.
• Unlike the World Marathon Majors races, there will be no pacesetters; the Olympians themselves will have to set the pace. That leads to all kinds of unpredictabilities in the race, a plus for tacticians like Keflezighi.
• Perhaps most important are the limits on national participation. Unlike the world's other big marathons, the Olympic race will be limited to three per country. So only three Kenyans will be in the field, a considerable advantage for those from other nations since Kenya accounted for 25 of the top 26 places on the IAAF's 2011 world list. And there will be only three Ethiopians in the field, which will also include contenders from Bahrain, Brazil, Eritrea (Keflezighi's birth country), Japan, Morocco, Qatar and a few others.
All of these elements open the door for Keflezighi and coach Bob Larsen (also his coach at UCLA) and his teammates Hall and Abdirahman. Happily, no one gets a medal for just running fast at the Olympics. You get a medal for finishing in the top three.
Competition is the essence of the Olympic Games, just as it was for Wooden. His teams always seemed to play their best in the biggest games; perhaps his most astounding record was not the 88 straight games his teams won in the early 1970s, but the 38 straight NCAA Tournament games that his Bruins won between 1964-74. That's performing under pressure.
For Keflezighi, he will train and plan with care and if he feels fit on August 12, no one will be all that surprised if he finishes in the medals once again. Because, as they say at another kind of track, he's a race horse and not a show horse.
Just the kind Coach Wooden appreciated most.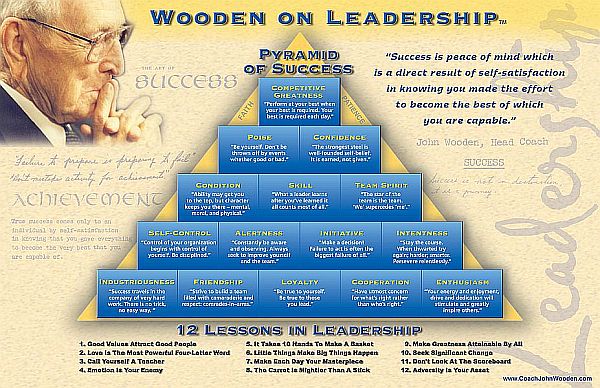 (You can stay current with Rich's technology, sports and Olympic commentaries by following him at www.twitter.com/RichPerelman.)