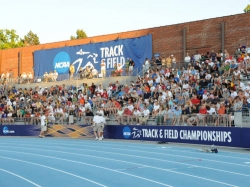 LOS ANGELES, Jun. 14, 2011 – There were a lot of positives to reflect on at last week's NCAA Track & Field Championships at Drake Stadium in Des Moines, Iowa:
• A thrilling team race, although tough to follow, that ended with Texas A&M somehow pulling out their third straight wins in both the men's and women's competitions, the first time that double three-peats have ever been accomplished by the same school.
• The emergence of a brilliant new star in Zimbabwe's Ngoni Makusha (Florida State), who set a collegiate record of 9.89 in the 100 meters in wet conditions and won the long jump at 27-6 3/4 (8.40 m), the second-best jump in the world this year. He's only the fourth to complete the 100/LJ double, joining DeHart Hubbard (Michigan, 1925), Jesse Owens (Ohio State, 1935-36) and Carl Lewis (Houston, 1981).
• The first-ever women's 1,500 m/5,000 m double, in convincing fashion by Sheila Reid of Villanova, who overpowered the field in both events over the final 150 meters.
• New hope for the United States in the triple jump, with the Florida duo of Christian Taylor and Will Claye riding the winds to 58-4 3/4w (17.80 m) and 57-9 3/4w (17.62 m), respectively, backed up with legal jumps of 57-1 for Taylor and 56-11 3/4 for Claye.
• The first-ever three-time event champions who did not win in consecutive years: Jeshua Anderson of Washington State in the 400 m Hurdles (2008-2009-2011; second in 2010) and Makusha in the long jump (2008-2009-2011; redshirted in 2010).
And there were some lowlights, especially the weather, which dramatically impacted the attendance, totaling only 29,377 over the four days, compared with 41,097 in better weather in 2008.
But before moaning too much about the attendance at the NCAAs, the reality is that while fan support for other events like college football and basketball has soared over the last 20-30 years, significantly aided by heavy national television coverage during their regular seasons, track is where it has always been. Really.
Here's the proof: we researched the four-day attendance at the NCAA meet for the last 25 years and the NCAA final-day attendance for the last 50 years, as reported by Track & Field News in the magazine and in Track Newsletter. The top four-day crowds, going back to 1987?
(1) 2010: 45,847 in Eugene
(2) 2008: 41,097 in Des Moines
(3) 1990: 35,600 in Durham
(4) 1994: 34,816 in Boise
(5) 2003: 31,900 in Sacramento
And what of the final-day crowds for the climax of the championships? Over the past 50 years, the top single-day crowds:
(1) 1967: 19,553 in Provo
(2) 1990: 18,600 in Durham
(3) 1968: 17,000 in Berkeley
(4) 1965: 16,000 in Berkeley
(5) 1975: 15,841 in Provo
That's not much more than the 12,812 in Eugene in 2010 or the 14,000 in Austin in 2004, especially considering the size of the facilities involved (Provo and Durham ran their meets inside their campus football stadia).
It's also harder to attract large attendance in small markets, which is where the NCAA runs its meets now. The NCAA championships hasn't been in a top-10 market since 1976 in Philadelphia and has been in a top-12 market all of four times in the last 50 years: Houston '83, Philadelphia '76 and Berkeley in '65 and '68.
And that speaks to another important factor in track's overall decline in the U.S. sports consciousness: lack of media coverage.
Yes, CBS was there with two hours live in CBS College on Friday and full coverage on Saturday on the CBS network. But the saddest piece of paper on display during the entire meet was the press box seating chart. Of the 22 media outlets seated in the press box, six were from Iowa, eight were from track-specialist publications and a grand total of eight were from news media outside of the local area:
• Associated Press;
• ESPN.com;
• Arkansas Valley News;
• Baton Rouge Advocate;
• Eugene Register-Guard;
• GTR Newspaper (Tulsa, OK);
• Indianapolis Star;
• The Pantagraph (Bloomington, IL).
That's it. One news outlet (the Indy Star) from the top 60 U.S. markets. Why? Well, for one thing, no team from a top-10 U.S. market has won since 2000 (Stanford) and a grand total of three times in the last 25 years on the men's side (Stanford, UCLA) and three times on the women's side (USC and UCLA) on the women's side. None of this year's contenders – Florida, Florida State and Texas A&M for men and LSU, Oregon and Texas A&M for women – come from large media markets.
Can this be changed? What does draw a crowd? More on that tomorrow.