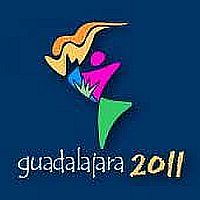 LOS ANGELES, Oct. 12, 2011 – An eight-word headline in Canada's National Post captured the essence of the XVI Pan American Games that opens Friday evening in Guadalajara, Mexico:
The Pan Am Games: why you should care
Reporter Sean Fitz-Gerald noted that the event is a stepping-stone to the 2012 Olympic Games, but many of the leading lights won't be there. As he wrote:
"It's pretty awkward for track and field," Canadian track and field coach Les Gramantik said. "And that's why, for the top-level athletes, for those who seriously consider the Olympics — not just to make the team, but to be competitive — it is a time that you need to start training. It is not really smart to go and compete at this point."
USA Track & Field has a team of 90 entries in the event, with a few top athletes competing (hurdler Ginnie Powell-Crawford, vaulter Jen Suhr), but the squad is pretty thin on stars: of the 90 names on the list, only 22 have biographies on the USATF Web site. That tells you all you need to know.
Another indicator: U.S. television rights are held by ESPN Deportes, which will show more than 90 hours over the 17 days of the Games, with 20 hours of English-language programming on ESPN2 (the current schedules show only about 15 hours on six different days, however).
For their part, the Guadalajara organizers are already claiming victory:
[T]he director of Publicity and Commerce of the XVI Guadalajara 2011 Pan-Am Games Organizing Committee (Copag), Horacio de la Vega, explained that with sponsors and television rights, COPAG collected 60 million dollars, the most by any Pan-Am Games, overcoming the 2007 Rio Games with 40 million, already making it a huge success.
The same story, however, also noted that Mexican government officials admitted that "3 billion pesos were invested in the direct investment in stadiums and sports infrastructure and that 10 billion are for the private creation and remodeling of jobs, hotels, and airports." Those 13 billion pesos are about $978.5 million U.S., so against revenues of perhaps $80 million U.S. with ticket sales, the Mexican government spent almost $1 billion U.S. to put on the Games, right?
No wonder that the plain-speaking treasurer of the Pan American Sports Organization, Richard Peterkin of St. Lucia told the PASO Assembly this week that the worldwide economic malaise could drive away potential bid cities and that current organizing committees could be in trouble. The dependable Around The Rings news site noted his comment that "'Cities may have a hard time delivering what they have promised,' . . . not mentioning any specific cities that could be affected."
Peterkin, who is also a member of the International Olympic Committee, was understating the situation. It's already happening:
• 2008 World University Games in Belgrade, Serbia: organizers dropped six of the 17 scheduled sports from the event – canoeing, rowing, karate, shooting, wrestling and handball – in order to save money.
• 2010 Commonwealth Games in New Delhi, India: this event, designed to showcase India as a world power, was a flop of historic proportions, costing a reported $4.1 billion U.S. and taking in an astonishing total of just $38 million in revenue! The Associated Press reported that "The head of the organizing committee, Suresh Kalmadi, is in jail on corruption charges."
• 2013 Mediterranean Games awarded to Larissa and Volos, Greece, were withdrawn in January 2011 because of "financial inability."
And let's not forget that the governmental contribution to London 2012 has risen from the bid projection of £2.4 billion (about $3.8 billion U.S.) to £9.3 billion (about $15 billion U.S.) today.
So why should anyone bid for events like these, with their negligible public interest and modest appeal to sponsors and ticket buyers?
The only logical reasons would seem to be:
• Create publicity for a new development or resort, as Nagano, Japan did with the 1998 Olympic Winter Games and Sochi, Russia is planning to do with the 2014 Winter Games. As a promotional vehicle, the Olympics are unparalleled and possibly worth the cost. Smaller events might make sense on a regional level.
• Demonstrate the capabilities of a developing nation. Doha, Qatar did a creditable job of hosting the XV Asian Games in 2006 and has won acclaim in international circles for its organizational achievements; it's now a serious candidate for the 2020 Olympic Games.
• Bread and circuses as noted in the Wikipedia entry for the phrase:
A metaphor for a superficial means of appeasement. In the case of politics, the phrase is used to describe the creation of public approval, not through exemplary or excellent public service or public policy, but through the mere satisfaction of the immediate, shallow requirements of a populace.
In essentially every case other than the two Olympic Games in Los Angeles (1932, 1984) and the Winter Games in Salt Lake City (2002), the public is required to fund these events, and if they aren't even a big deal when they happen, what's the point?
Even as the Guadalajara Pan Ams get set to open, the National Post's Fitz-Gerald noted that Toronto "beat out rival bids from Bogota, Colombia, and Lima, Peru, for the right to host the Pan American Games in 2015, with 33 of 52 first-ballot votes. Those Games will be held in venues spread across the Greater Toronto Area and beyond. Getting the locals to notice is a challenge facing Toronto 2015 CEO Ian Troop, who recently said a survey of 1,500 Canadians revealed only 40 per cent knew the event was headed to their own backyard."
The question is not, it seems to me, as the headline states: "why you should care," but rather "why should you care?"
(You can stay current with Rich's technology, sports and Olympic commentaries by following him at www.twitter.com/RichPerelman.)