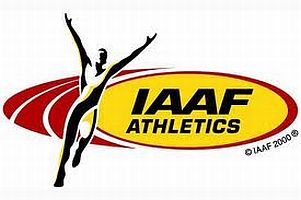 LOS ANGELES, Jun. 20, 2011 – The amazing return of the University of California to the College World Series in 2011 is an appropriate celebration of the miracle by which the Golden Bears baseball team marks its survival.
At the same time, it preserves the last venue to can really hope to host the IAAF World Track & Field Championships in the United States.
Faced with a continuing deficit in its athletic budget, Cal announced last September 28 that five sports would be dropped, including baseball, rugby, men's and women's gymnastics and women's lacrosse. Three – rugby, lacrosse and women's gymnastics – were reinstated in February 2011, leaving supporters of baseball and men's gymnastics to raise enough funds to continue the programs. Happily, both did, with the "save baseball" campaign raising $9.7 million to assure its continuation.
How does this impact track & field?
Essentially every major U.S. football stadium that had a track inside has eliminated it, or is in the process of doing so: the Memorial Coliseum in Los Angeles, Stanford Stadium in Palo Alto, Husky Stadium in Seattle, Ohio Stadium in Columbus, Dyche Stadium outside Chicago, Memorial Stadium in Austin, and so on. What was the Olympic stadium in Atlanta for the 1996 Games is now Turner Field, home of Major League Baseball's Atlanta Braves.
Stanford's situation was typical. A candidate for the 1997, 1999 and 2001 World Championships in historic, 86,000-seat Stanford Stadium, the university built a small track facility adjacent to it, then remodeled the old stadium into a more intimate 49,000-seat facility strictly for football. Why keep the track when just 1-2 meets a year are held there?
When ex-USA Track & Field chief executive Doug Logan projected that the U.S. would host a World Championships by 2015, what he didn't tell us was that he was solely relying on a Chicago victory in the race for the 2016 Olympic Games. No Chicago Olympics meant no World Championships, either.
What are the remaining possibilities? Having written the three Stanford bids, I'm well familiar with the requirements. If the IAAF was interested and willing to hold the meet in the U.S., is there a facility which could do it?
In my view, only Cal, as shown in the Google Earth photograph: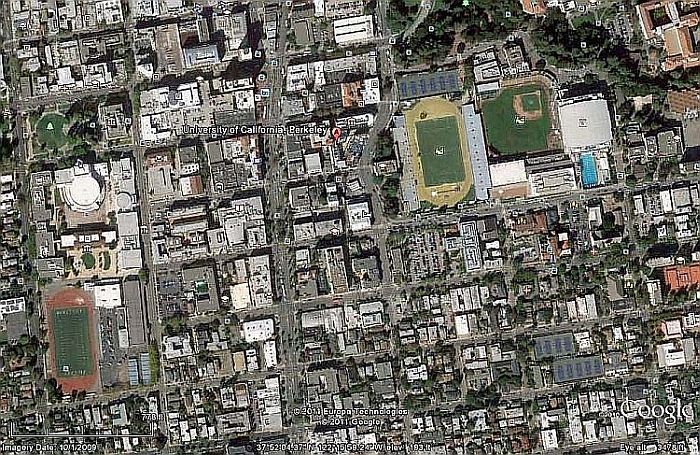 Cal's Edwards Stadium – with its bright yellow track – starts with a capacity of 22,000 with excellent sight lines of all eight lanes. All of the long throws can be held inside the stadium. And – this is key – there are major expansion possibilities to the east and north:
• Evans Diamond, home of the reprieved baseball team, sits right behind Edwards Stadium, with dimensions of 320 feet down the foul lines and 395 to dead center. That space of nearly four acres could easily host 16-20,000 additional bleacher seats, bringing the capacity to more than 40,000.
• Hellman Tennis Stadium to the north includes six large, hard-court playing surfaces, on which could be placed as many as 4,000 more seats, bringing the "World Championships" capacity to around 44,000 or so, barely sufficient – but probably enough – for the IAAF.
Just as important are the support facilities that make Cal the only reasonable choice for a U.S. host:
• Athlete support: Cal is building a first-quality athlete support, sports medicine and weight-training facility in the Student-Athlete High Performance Center, across the campus, adjacent to the Memorial Stadium football facility and close to the campus housing halls. Housing could be on-campus (there's room for 6,000 now, with dining halls that have won several awards for culinary excellence), in hotels in the East Bay area, or even in San Francisco if desired.
• IAAF support: Cal's Recreational Sports Facility, just behind Edwards, is a 100,000-square foot student recreational facility with three gyms, seven basketball courts, six squash courts, seven handball courts and much more to handle all of the administrative needs of the Championships, even some VIP parking.
• Media support: Cal's basketball hall, Haas Pavilion, overlooks Evans Diamond and is large enough to handle the media needs on its floor, concourses and meeting and banquet rooms.
• Warm-up: To host a World Championships, a training track is required. Looking at the satellite photograph of the area, you'll see a nearby field with a synthetic track, at Berkeley High School, just a couple of blocks from Edwards Stadium. This set-up is similar to that used for the 1984 Olympic Games in Los Angeles, when athletes warmed up at USC, then shuttled over to the Memorial Coliseum for competition. It worked then, and it can work here.
And for spectators, while parking is tight, there is a BART stop a block-and-a-half from Edwards Stadium.
Doing this wouldn't be cheap (an estimated $1 million for the temporary seating modifications), but should be manageable within the scope of a World Championships program. Naysayers will dismiss this solution, but it is – in my view – the only one actually available in the U.S. today.
I sent a letter noting this to Logan back in May of 2010, but of course, I never heard back. Happily, Cal's baseball backers have preserved this option, which will need significant sponsorship, television and local and regional governmental support to become reality.
But even as a UCLA grad, it's made me a Cal backer in this year's College World Series. Go Bears!
(You can stay current with Rich's technology, sports and Olympic commentaries by following him at www.twitter.com/RichPerelman.)