LOS ANGELES, Jul. 20, 2015 – For promoters of events seeking media coverage, statistics are a friend worth having.
In today's distracted world of alerts, apps, tweets and snaps, having reference points for your event creates natural drama, storylines and opportunities to be noticed. Take Thiago Pereira, for example.
Don't recognize the name? You're not in Toronto for the 2015 Pan American Games, now underway. Pereira, a veteran Brazilian swimmer, is big news there.
During the five days of swimming competition, he won five medals – three of them gold – to give him a total of 23 Pan American Games medals, the most ever won by a single person. He surpassed the mark of 22 won by Cuban gymnast Erick Lopez from 1991-2003.
Now Pereira is no slouch, having won an Olympic silver in London in 2012 in the 400 m Individual Medley. But he's also not Michael Phelps, Ian Thorpe, Katie Ledecky or one of the other widely-recognized stars of worldwide swimming,
But his chase – and success – in setting the all-time individual-medals record at the Pan American Games created interest where there would otherwise be none. That's the value of statistics.
Sports fans of all stripes know this from their own experience. Baseball fans yearn for the next .400 hitter. Basketball fans wonder if anyone will ever surpass Wilt Chamberlain's single-game scoring record of 100 points. Swimming and track & field fans are glued to the possibilities of world records in any event.
That's why it's so important to have the right statistics at hand well before your event to look for angles that can be promoted to news media and spectators. It's just as crucial to keep good statistics during your event, in order to recognize outstanding performances and raise your event's profile. And widely overlooked is the need to comb through the results as soon as your event is complete to see where a new promotional opportunity is lurking.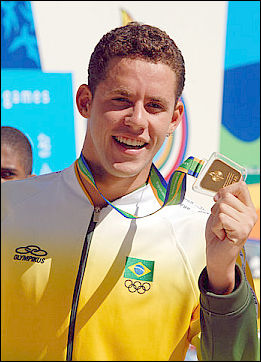 Perelman, Pioneer was honored to assist the Toronto 2015 Pan Am/Parapan Am Games Organizing Committee (TO2015) as the provider of historical results, multi-medalists, World and Pan American Games records and the first-ever all-time lists of best marks made in the Pan Am Games in swimming and track & field.
We're delighted to have provided the data foundation on which Pereira was recognized as the biggest medal-winner in the 64-year history of the Pan American Games. His achievement will be one of the stories for which the 2015 Games will be remembered. We're glad to have played a role in helping him make history.
(If you're interested in assistance with your mega-event, go ahead and Contact Us right away!)