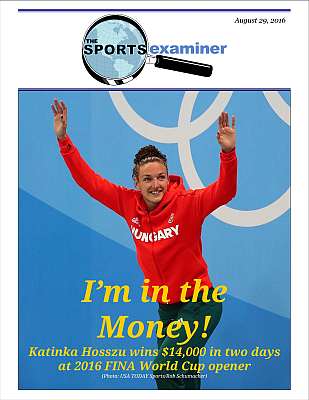 PALM DESERT, Aug. 29, 2016 – You've read plenty of stories about Olympians who are barely scraping by given the paltry amounts of money available to many Olympic sports.
Hungary's Katinka Hosszu is making sure she isn't one of them. Less than a week after the Games in Rio ended, she swam in 13 events in the first FINA Swimming World Cup of the season in Paris and collected $14,000 in prize money over two days!
She knows what she's doing: she won $325,500 in the Grand Prix in 2015! Full coverage of the Swimming World Cup and:
Lane One: Which sports are the most important? Follow the money!
Athletics: World steeplechase record from 19-year-old Ruth Jebet in Paris;
Beach Volleyball: Gold again for April Ross and Kerri Walsh Jennings in Long Beach;
Cycling: Spaniards dominating (so far) on home turf at the Vuelta a Espana;
Cycling: American Megan Guarnier clinches UCI Women's World Tour title;
Rowing: N-i-n-e medals for the U.S. in World U-23 and World Junior Champs!
Don't let the worldwide carousel of sports pass you by; keep up-to-date with The Sports Examiner! Click here for the PDF!
Tell your friends to subscribe to The Sports Examiner – free via e-mail – by signing up in the subscription form on the home page of Perelman-Pioneer.com.
¶ Perelman, Pioneer offers professional communications and major-event planning, management and production. If we can add to your success, let us know how we can help!
¶ Stay informed with a free subscription to our commentaries by registering your e-mail address on the Perelman, Pioneer home page (subscription box on the right side of the screen).
¶ Want to know when new posts are up? Follow us at Twitter.com/Sports_Examiner