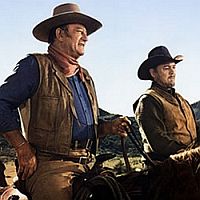 LOS ANGELES, Jul. 13, 2011 – There are fights and then there are wars. The difference is in size and intensity. When the education of children around the world is concerned, it's got to be a war.
In the 1970 western classic Chisum, rancher John Wayne (John Chisum) faced off against the upstart L.G. Murphy, played by Forrest Tucker, the core conflict of the film was summed up by veteran actor Ben Johnson, who played Chisum's long-time foreman, James Pepper:

Well, my opinion is all this speechifying, storekeeping, prayer-meeting don't amount to spit in the river. There's only one thing that's going to make this territory know who's bull of the woods . . . and sometime or sooner it's going to happen.

. . .

It's just going to be you and Murphy, head-to-head and horn-to-horn . . . and one hell of a fight. But one of you has got to lose, so the other one walks away with the herd and the whole shebang.
That may well be where we are headed in education, right down to nursery school, with three likely protagonists:
• Apple, which had fiscal 2010 revenues of $65.2 billion (up 52% over fiscal 2009);
• Google, which had calendar-year 2010 revenues of $29.3 billion (up 24% over 2009);
• Microsoft, which had fiscal 2010 revenues of $62.5 billion (up 7% over 2009).
Apple has its iOS operating system, made popular by the iPhone and now on the iPad. Google has the quickly-growing Android operating system, used on dozens of smartphones and on an increasing variety of tablets from Toshiba, Samsung, Motorola, Dell, Acer and others.
Now these devices – especially the tablets – combining speed and size in a format only slightly smaller than a letter-sized writing pad and just about as light, are in position to be the all-in-one answer to textbooks, homework and exams in just a few years.
A recent report noted that South Korea – population 49 million – is committed to eliminating printed textbooks for elementary students by 2015 and replacing them with tablets and/or e-readers. How long before the U.S. – on a school district-by-school district basis, of course – does the same?
Beyond the inevitable litigation by textbook publishers, religious groups, optometry associations, anti-electricity groups, the American Medical Association and others about the adoption of these devices, the biggest stakes may well be what operating system is used.
It's every marketer's dream to have children taught to use their product from the time they arrive for their first day in pre-school. The decision of what kind of device and what operating system may well determine the fate of Apple, Google and Microsoft.
Apple and Google have a leg up thanks to the quick and smooth performance of the iPad and Android tablets, while Microsoft has lagged behind with the much-slower-performing Windows 7 operating system that hasn't shown as well on tablets (but with better performance promised from the forthcoming Windows 8).
And while Apple currently has a significant asset in the tight integration of its iTunes store with the iPad and other Apple devices, Google has a continuously-expanding deck of services that allow Android users to easily access not just electronic mail (Gmail), but support for voice communications (Google Voice), video (YouTube), pictures (Picasa, soon to be Google Photos), languages (Google Translate), document collaboration or storage (Docs), blogging (Blogger) and now the Google+ social networking project.
None of this may make much of a difference for two of these companies if kids begin using the operating system of the third, beginning at age 3 and continuing for the next 15 years through high school.
Who is the likely winner? It's not clear yet; Apple's iPad is quite popular now and its iOS is a hit on the 50 million iPhones sold so far, but Android tablets are just now appearing in number, are made by multiple manufacturers, and there is much promise in the Android 4.0 (Ice Cream Sandwich) upgrade coming late this year. Microsoft appears late to the party, but has long been the favorite of the business computing community and is well entrenched in many school districts already.
In recent days, however, Google has been making some interesting moves. Especially noteworthy are details of the new Google+ social-networking program, including the ability to create strictly-limited groups called "Circles," which seems tailor-made for individual school classes. And to match the depth of Apple's iTunes customer base of about 150 million, how about a joint venture by Google with Amazon.com, already with more than 100 million customers and which allows customers the option of paying with AmEx points? Buy a tablet and then pay for textbooks with the points you earned? Cha-ching!
This is a way's off, but it is not too early to begin watching which company will be best positioned to walk off with what may be the biggest prize in business since blacksmiths started making spears in the Bronze Age.
Actually, when you think about it, the biggest winners will be the lobbyists hired by all of these companies to try and get their products selected. I think I'll get ready by checking out some classic pro wrestling matches . . . because it's going to get bloody.
(You can stay current with Rich's technology, sports and Olympic commentaries by following him at www.twitter.com/RichPerelman.)