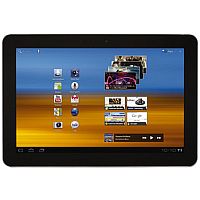 LOS ANGELES, Jun. 16, 2011 – The rush of technology is changing the way we work at an unheard-of pace, and while I am not an early adopter in some areas, I am all-in for tablet computers as a way to make my computing experience a lot easier.
No more laptops or netbooks; for me, tablets are just as fast, lighter and even more ergonomic. And now, Samsung is getting ready to make my move complete . . . thanks to a couple of accessories.
There's plenty of buzz in the tablet world over the introduction of Samsung's new Galaxy Tab 10.1, which went on sale in one store in New York last week, but is slated to be available nationally tomorrow. The specs are well known – a 10.1-inch screen, Android 3.1 operating system, a 1 Ghz dual-core processor, dual cameras for stills and high-def video and just 0.34 inches thin – but it's a couple of unpublicized accessories which make all the difference.
Like most people, I work in the Windows world, and like many, use Google's Gmail system to unify my calendar and contacts information. Since Google created the Android operating system, my info is easily tied in to my Android-powered Dell Streak phone and Samsung Galaxy Tab 7.0 tablet. But my work files are kept on flash drives, impossible to share with either device without using a cable to connect my tablets with a PC. That's about to change.
Now, Samsung has very quietly introduced a little $20 adapter for the Galaxy Tab 10.1 that allows direct use of USB accessories like flash drives, keyboards and mice with the tablet. Samsung already includes the excellent Quick Office HD app, so you can pull up MS Word, Excel and Powerpoint files, as well as PDFs. Leave the office, take the tablet, the flash drive and my adapter and voila, I am in business anywhere.
While assisting the CBS broadcast team at last week's NCAA Track & Field Championships as the statistician in the graphics truck, I was using two tablets and a pile of paper notes to keep track of the team races: a Windows 7 tablet – the terrific and underrated EXO PC – running a spreadsheet of the leading teams on its 11.6-inch screen, and the Galaxy Tab 7.0 (seven-inch screen) to reference the Flash Results Web site, which had the official results posted seconds after each race (and each performance in each field event!). With the new Galaxy Tab 10.1, I'll be able to see the results a lot more clearly and I won't have to print out all those notes or convert them into PDFs and load them in the week before. I can just plug my flash drive and roll on.


Because I am packing both Windows 7 and Android tablets in my bag, I would also like a wireless keyboard that could be used with both. There are plenty of Bluetooth-enabled keyboards for Windows, but now Targus has one for both that's just 7/10ths of an inch thick, with seven months' use predicted from a single set of batteries.
Now I can see and work with what are essentially custom-designed computers, with my choice of screens, keyboard and mouse or touch, in both Windows and Android, using devices which together are barely more than an inch-and-a-half thick. And with flash drives carrying capacities of up to 256 Gb today, I can take a whole library with me to any meet.
Now that's mobile computing . . . thanks to a couple of under-publicized, but most welcome add-ons to Samsung's new Galaxy Tab 10.1. Now, the only question is whether I get one in white or gray . . .
(You can stay current with Rich's technology, sports and Olympic commentaries by following him at www.twitter.com/RichPerelman.)