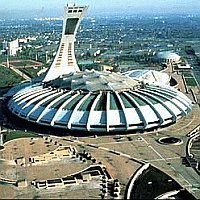 LOS ANGELES, Sep. 15, 2011 – The International Olympic Committee issued an edict this week that will prevent cities bidding for the 2020 Olympic Games from starting their worldwide promotional campaigns until nine months prior to the actual vote. Yesterday, Quebec's Olympic Installations Board announced that it has formed a committee to ask the public what to do about Montreal's mostly-unused Stade Olympique.
The two may not seem related, but they are. Both are about waste.
• Montreal first. Its Olympic stadium and surrounding Olympic park, built for the 1976 Games, ran up a debt of $1.5 billion (Canadian) that wasn't paid off – primarily through a tax on tobacco products – until mid-November of 2006, more than 30 years after the Games. The planned roof, which would have made the 1976 track & field competition the first Olympics to have been held indoors, wasn't installed until the late 1980s, then parts collapsed in 1991 and 1999, leading to the building's closure in wintertime.
The building now runs an annual operating deficit (C$7.3 million in 2009) that must be paid from public funds. It is, in the words of the Canadian Press story on the committee's request for public comment, "a site that has long been an infamous symbol of cost overruns and bad government planning."
In fact, it has been the ultimate "white elephant," an icon of reckless spending for an event for which Montreal mayor Jean Drapeau famously said during the bid process, "The Montreal Olympics can no more have a deficit, than a man can have a baby."
Now, the Quebec public is being asked to come up with ideas for its use. As it turns out, tearing the building down will not be considered, as it was built so solidly that it cannot be imploded, but would take months to deconstruct. That means a new roof will likely have to be added in any case, costing even more. This isn't going to be an easy project.
• Critics of the International Olympic Committee and the Olympic Games sees the entire movement as a tornado of waste, siphoning off money better spent elsewhere. But for the cities which host the Games, there is at least some construction activity, lots of attention and – if the Games go well – positive media coverage and possible new business activity if properly capitalized on.
But losers in the process of bidding for the Games get nothing, and the price of playing is getting out of sight. In the bidding for the 2016 Games, the four finalists spent more than $210 million (U.S.) combined:
> $59.4 million: Chicago (announced total)
> $52.5 million: Madrid (announced total)
> $50.3 million: Rio de Janeiro (announced total)
> $48.0 million: Tokyo (estimated cost)
Of that, about $160 million was spent by the losers, who had no return to show for their efforts. At least Chicago, which raised an astonishing $75.9 million in cash, handed over $16.5 million to the World Sport Chicago non-profit, which will use the money to further the impact of sports in and around the city.
Now the indefatigable Around the Rings news site has reported that the final candidates for the 2020 Olympic Games – to be chosen from a six-city field including 2016 losers Madrid and Tokyo, plus Baku and Doha (both Applicant City losers for the 2016 Games), long-time applicant Istanbul and 1960 host Rome – will be prohibited from campaigning until January of 2013, just more than nine months prior to the 7 September 2013 selection date at the I.O.C. Session to be held in Buenos Aires.
By doing this, the I.O.C. can trim some of the costs for these cities, which spend millions on travel, presentations and hospitality going to showcase their bids in faraway places where a few I.O.C. members – even one – might be present. In point of fact, the January 2013 "launch" date for promotion coincides almost perfectly for the projected date on which the completed bid dossiers are due to be turned in. So the Candidate Cities will actually be promoting what they have submitted (or are about to submit) to the I.O.C.
Given, however, that there are only 113 I.O.C. members, is it really necessary to have even nine months of campaigning? As it is:
• An I.O.C. evaluation commission tours each of the Candidate Cities six months ahead of the vote date, and issues a thorough report on whether that city can host the Games and what its strengths and weaknesses are. The reports are compact enough to be easily digested and each city immediately responds with its own commentary on their evaluation.
• I.O.C. members are invited – and most attend – a "technical seminar" with presentations and question-and-answer sessions with the bid committees in Lausanne at the I.O.C. headquarters. Inaugurated with a 17-18 June 2009 session for the 2016 candidates and held on 18-19 May 2011 for the three candidate cities for the 2018 Winter Games, the actual voters and the bidders are face-to-face in a free-exchange forum about 3-4 months prior to the vote.
• Of course, there is a formal presentation to the I.O.C. members directly prior to the actual vote on the host city.
Is there really a need for much more than this? Bid city officials privately complained – and Chicago bid chair Patrick Ryan said so publicly – that they spent way too much time and money looking for the odd I.O.C. member here and there, especially at the many events held during the summer.
So just say that bid cities shouldn't go there. Chicago's Ryan estimated that some $10 million was spent running around the world to show off the bid because "you better be there."
Web sites? Yes. Events in your own country to promote your bid and generate enthusiasm? Of course. Running around the world for essentially no reason? Why?
If more meaningful contact is desired, just change the procedure to allow all I.O.C. members the opportunity to visit each Candidate City as a group, at the expense of that Candidate City, for two days between the delivery of the evaluation report and the technical seminar. Even at $5,000 per person (!) for all 113 members and spouses, the cost would be just $1.13 million per city, a savings of almost 90% over Chicago's expenditure alone. In person and face-to-face, on the ground where the Games would be held.
And if you can't organize a visit for 250 people, folks, you're going to have trouble organizing the Games.
Can't happen? Why not? In the words of British mathematician and writer Bertrand Russell, "Do not fear to be eccentric in opinion, for every opinion now accepted was once eccentric." And massive waste – as symbolized by Montreal's Stade Olympique – is worth campaigning against.
Even Pierre de Coubertin, founder of the modern Games, knew waste when he saw it and said so . . . in a 1909 speech, not long after another Olympics held in London, a year before. What he said then applies equally to today's bid process:
"The Games must be kept more purely athletic; they must be more dignified; more discreet; more in accordance with classic and artistic requirements; more intimate, and above all, less expensive . . ."
(You can stay current with Rich's technology, sports and Olympic commentaries by following him at www.twitter.com/RichPerelman.)