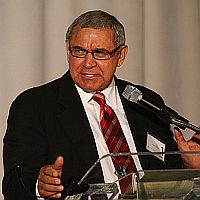 LOS ANGELES, Sep. 30, 2011 – If you are wondering about what USA Track & Field is doing about its search for a chief executive, all you need to do is tune into this article in the October issue of Track & Field News. It's by far the best coverage yet written of the USATF search saga.
At present, the word is that the USATF Board of Directors will likely not select a CEO until 2012, and that the selectee will not be a member of the USATF Board.
That decision made a lot of people happy because it quashed the long-standing rumor that current USATF President Stephanie Hightower, who was deeply involved in the firing of previous CEO Doug Logan, would take the job.
In fact, that a Board member will not become CEO is a pity, because the best candidate – by far – sits on the Board today: Steve Miller.
Miller will appreciate the compliment, but will also be annoyed that I am writing this because he has a fabulous job as the head of Agassi Graf Holdings in Las Vegas, Nevada. And he isn't going to give it up to dive – headfirst – into quicksand.
Why is Miller the right choice? Let me count the ways:
(1) He is decisive, straightforward and opinionated. That's going to be essential for anyone working in the political tornado that is USATF.
(2) He has long experience in growing and business and in obtaining sponsorship. Miller worked for nine years as a senior executive at Nike (1991-2000) and then helped to resurrect the Professional Bowlers Association Tour from 2000-2005 from a near-death status after its sale to an investor group. Believe it or not, pro bowling was in a lot worse shape then than track & field is today!
(3) Miller has his roots in coaching, serving as the track coach at Cal Poly in San Luis Obispo, California in the 1970s and at Kansas State from 1981-87. Essential to deal with the coach-heavy power structure at USATF.
Straight talk, with business, league-building and coaching experience and expertise. Could there be a better fit?
Moreover, Miller noted in the T&FN story that – at least for now – the USATF focus needs to be on the pre-high school and post-collegiate athlete as our prep and collegiate programs continue to be top-flight developmental forums for which our national Olympic sports federations don't have to pay a dime (yet).
Having sold a few sponsorships myself over the years, the revenue-generating difficulties facing a new USATF CEO are daunting. The association only has around 100,000 members, spread out from youth to masters, across the country. USATF as an entity owns only a few events, mostly its national championships, which are bid out to independent entities like the Oregon Track Club, who are the actual operators. If USATF is to attract more money for the sport so that it can fund more athletes, it has to have more inventory to sell to sponsors and television. At the end of the day, there are really only six significant income opportunities for USATF:
• (1) Television rights;
• (2) Sponsorships;
• (3) Event ticket sales;
• (4) Donations (example: USOC);
• (5) Membership dues;
• (6) Government (local, state or federal).
Unfortunately, items (1)-(2)-(3) are tied up in events and there aren't many meaningful elite-competition meets in the U.S. any more, and the U.S. government has traditionally not allocated funds for elite-athlete support (and none will be coming anytime soon in the current recession and deficit-spending era).
So the sport needs new events, new organizers, better television exposure and some tireless, active tub-thumping. Just like bowling, a dozen years ago.
Steve . . . help!
Steve?
(You can stay current with Rich's technology, sports and Olympic commentaries by following him at www.twitter.com/RichPerelman.)