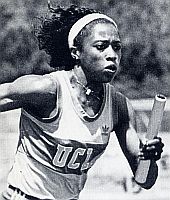 LOS ANGELES, Apr. 23, 2012 – While the rest of the country busies itself with rites of spring in Des Moines and Philadelphia, this is the high season for track & field in Los Angeles: the Mt. SAC Relays followed by the dual meet between USC and UCLA.
As good as Mt. SAC was last weekend, the annual dual between the Bruins and Trojans brings out much more emotion and is never just a training exercise on the way to future competitions. It's a time to extend yourself, and for athletes to find strength they didn't know they had.
Of special note this year is USC's senior women's distance ace, Hungary's Zsofia Erdelyi, who will be going for her fourth consecutive double win in the dual, having won both the 1500 m and 5000 m races in 2009, 2010 and 2011. If she pulls it off, it would give her 40 career points against the Bruins; is that the most anyone has ever scored in this meet?
As it turns out, even 40 points isn't close to the all-time individual scoring record, held by a 5-foot, 2-inch dynamo who was the greatest performer ever in the USC-UCLA meet: Gail Devers.
She ran for UCLA from 1985 through 1988 and in four meets against very good USC teams – and teammates like Jackie Joyner – scored an astonishing 76 1/4 points against the Trojans:
• 1985: 15 1/2 points in 6 events Won the 100 meters (11.19) and 100-meter hurdles (13.18), second (20-8 1/2) to Joyner in the long jump and ran on the winning 4×100 m (44.13) and 4×400 m (3:37.40) relays.
• 1986: 21 points in 7 events Won the 100 m (11.41), 200 m (23.38), 100 m Hurdles (13.30), long jump (21-6 3/4) and third in the triple jump (42-6 3/4); the Bruins lost both relays.
• 1987: 22 1/4 points in 6 events Won the 100 m (11.30), 200 m (23.04), 100 m Hurdles (13.1w hand-timed), long jump (21-10), third in the triple jump (41-8 3/4) and on the winning 4×100 m Relay (44.51).
• 1988: 17 1/2 points in 5 events Won the 100 m (11.41), 100 m Hurdles (12.95), long jump (21-9 1/2) and both winning relays (44.68 and 3:40.21).
All together, Devers competed in 24 events against USC in four years, winning 13 individual races and five relays (18 total), while scoring in four other events, essentially a one-women wrecking crew and the undisputed leader in points scored in this meet.
What about the men? That's trickier.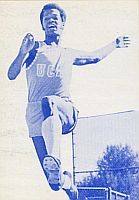 Research shows that no Bruin or Trojan has won two events every year for four years. The closest appears to be Willie Banks, the great Bruin long/triple jumper (and a teammate of mine) from 1975-78:
• 1975: 10 points for winning both jumps as a freshman, beating '72 Olympic champion Randy Williams in the long jump and then setting an American Junior Record of 55-1 to win the triple jump on his last try and give the Bruins a 75-70 win in what many called the best dual meet of all time.
• 1976: 8 points for winning the long jump and finishing second to USC's Tom Cochee in the triple jump.
• 1977: 8 points for winning the triple jump, but second in the long jump to USC's Larry Doubley.
• 1978: 10 points for winning both events.
Banks didn't compete in other events, so his four-year total is 36 points, believed to be the most on the men's side. He logged six wins in four years, but Bruin shot put great John Godina won seven of eight shot/discus events against the Trojans from 1992-95 and scored 35 points.
My library of results is pretty extensive when it comes to UCLA track & field, but I can't help but think that perhaps one of USC's earlier greats might have gotten close to, or even surpassed, Banks's total. Perhaps Mel Patton in 1947-48-49 in the 100 m-200 m-relay or hurdler Jack Davis from 1951-52-53. Of course, freshmen were not eligible in those days, but three straight double individual wins plus three relays wins would total 33 3/4 points and maybe Patton or Davis ran a fourth event in one of the meets.
Anyone out there know? [Update: strong research work by SuperFan Jesse Squire showed that Patton scored 25 career points against the Bruins and Jack Davis tallied 28.]
I'm privileged to be the public address announcer for UCLA's home meets at Drake Stadium and I'll be in front of the microphone for the rare Sunday edition this year, which will also be streamed live on Fox Sports West with Tom Feuer on the call. Having seen most of the last 40 editions of the men's meets (which date back to 1934) and almost all of the women's meets (which started in 1984), there is no doubt that it will be – as it always is – one of the highlights of the spring collegiate season in Southern California.
Both the men's and women's meets figure to be close enough on the scoreboard to leave the outcome in doubt. And as good as Erdelyi has been – and likely will be on Sunday – she won't be Gail Devers.
(Special thanks to UCLA Director of Executive Relations Marc Dellins for identifying a missing point for Devers in the 1987 meet!)
(You can stay current with Rich's technology, sports and Olympic commentaries by following him at www.twitter.com/RichPerelman.)