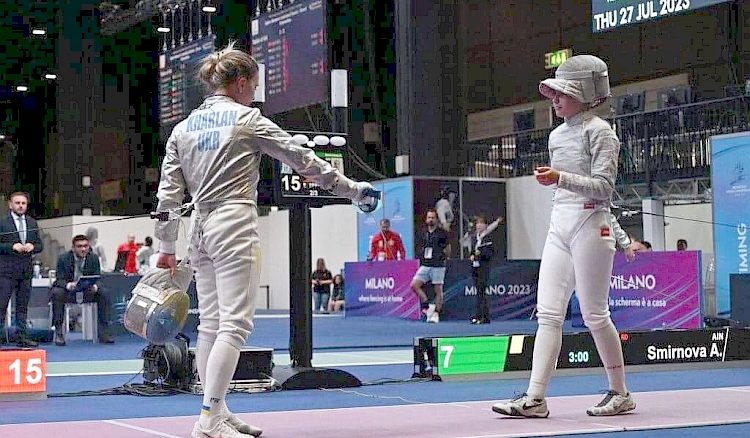 ● From our sister site, TheSportsExaminer.com ●
In his opening remarks at last month's 140th Session of the International Olympic Committee, President Thomas Bach (GER) praised the European Fencing Championships, World Judo Championships and World Taekwondo Championships for following the IOC's recommendations to allow Russian and Belarusian athletes to compete as neutrals.
"All three championships took place without incidents," he said, extolling the IOC's approach.
Well, now there has been an incident, on Thursday (27th) at the World Fencing Championships in Milan (ITA) involving four-time World Sabre Champion and 10th seed Olha Kharlan. She defeated 55th-seeded "neutral" (Russian) Anna Smirnova in the round-of-64, 15-7, then refused to shake hands after the bout. She offered her sabre for a touch, but Smirnova made no move and Kharlan left the piste. Smirnova stayed put and was eventually offered a chair, remaining on the piste for what was reported for as much as an hour.
The FIE disqualified Kharlan and the results showed Bulgaria's Yoana Ilieva advancing to the quarterfinals in a walkover.
The FIE technical rules (t.122) state:
"[W]hen the final hit has been scored, the bout has not ended until the two fencers have saluted each other, the Referee and the spectators: to this end, they must remain still while the referee is making his decision; when he has given his decision, they must return to their on-guard line, perform a fencer's salute and shake hands with their opponent. If either or both of the two fencers refuse to comply with these rules, the Referee will penalise him/them as specified for offences of the 4th group (cf. t.158-162, t.169, t.170)."
Smirnova stood on the piste, but offered no salute, while Kharlan offered her sabre in salute, raising questions about the severity of the penalty to Kharlan alone.
That Kharlan actually fenced against Smirnova was remarkable, as the Ukrainian government changed its stance on Wednesday, from banning all competitions against Russians or Belarusians to allowing those in situations where they are not representing their countries. Kharlan's bout against Smirnova was reportedly the first between a Ukrainian and Russian athletes since Russia's invasion in 2022.
The change in policy came too late for Ukraine's Igor Reizlin, the Tokyo 2020 bronze winner in Epee, as he refused to compete against Russian Vadim Anokhin on Wednesday, apparently presenting a medical excuse for his withdrawal.
Ukraine's Fencing Federation President Mykhaylo Ilyashev told reporters in Milan:
"We have already submitted our protest to the Bureau of the International Fencing Federation. We are waiting for the immediate consideration of this protest, so that this disqualification is cancelled and Olha can take part in team competitions."
Ukrainian Foreign Minister Dmytro Kuleba tweeted:
"Anna Smirnova lost the fair competition and decided to play dirty with the handshake show. This is exactly how Russian army acts on the battlefield. Olha Kharlan won the fair competition and showed dignity. I urge @FIE_fencing to restore Kharlan's rights and allow her to compete."
The IOC issued a statement in support of Wednesday's decision by Ukraine to allow competitions against Russians and Belarusians acting as neutrals that rings hollow only hours later:
"This decision will allow Ukrainian athletes to participate in international competitions and will enable them to qualify for the Olympic Games Paris 2024. We are glad that they will be given this opportunity, and at the same time we are aware of the difficult inner conflicts they may have, given the aggression against their country.
"Therefore, we encourage international federations to handle situations involving Ukrainian and Individual Neutral Athletes with the necessary degree of sensitivity. We continue to stand in full solidarity with the Ukrainian athletes and the Olympic community of Ukraine."
The women's Sabre tournament was won by Japan's defending champion Misaki Emura, who beat 2022 bronze winner Despina Georgiadou of Greece in the final, 15-11. Greece's 2019 Worlds third-placer Theodora Gkountoura and Ilieva took the bronzes, her first career Worlds medal.
¶
Then it got even crazier. On Friday, Kharlan went from being disqualified to being guaranteed a place at the Paris 2024 Olympic Games!
The International Fencing Federation (FIE) black-carded Kharlan, meaning she was not only disqualified for the remainder of the tournament, but also banned for 60 days and unable to fence in the Team Sabre event.
The Ukrainians immediately and loudly appealed, and the story was quickly elevated worldwide.
On Friday, IOC President Thomas Bach (GER) – himself a 1976 Olympic men's Foil Team gold medalist – sent a stunning letter to Kharlan that included:
"As a fellow fencer, it is impossible for me to imagine how you feel at this moment. The war against your country, the suffering of the people in Ukraine, the uncertainty around your participation at the Fencing World Championships in Milan, the difficult inner conflicts you and many of your fellow Ukrainian athletes may have and then the events which unfolded yesterday – all this is a roller coaster of emotions and feelings. It is admirable how you are managing this incredibly difficult situation, and I would like to express my full support to you.
"Given your unique situation, the International Olympic Committee will allocate an additional quota place for you for the Olympic Games Paris 2024 in case you will not be able to qualify in the remaining period. We make this unique exception also because the ongoing procedures will in no case make up for the qualification points you missed because of your disqualification.
"It goes without saying that you must fulfill the other eligibility criteria like any other Olympic athlete.
"Rest assured the IOC will continue to stand in full solidarity with the Ukrainian athletes and the Olympic community of Ukraine during these extremely difficult times."
The drama then turned to farce as the FIE called a news conference, with Kharlan and interim President Emmanuel Katsiadakis (GRE); the announcement included:
● "The Bureau of the International Fencing Federation (FIE) has decided to permit Ukrainian sabre fencer Olga Kharlan to participate in the forthcoming women's sabre team competition at the 2023 Fencing World Championships currently underway in Milan."
● "The FIE stands fully behind the penalty, which, after a thorough review, is in complete accordance and compliance with its official rules and associated penalties."
Said Kharlan. "The most important thing for an athlete is to be able to compete, for my family, my team, my country and all the people who support me. During these difficult few days, I appreciate all the support I've had from around the world."
After the incident on Thursday, Kharlan told reporters, "My message today is that we Ukrainian athletes are ready to face Russians on the sports field but we will never shake hands with them," and said that Katsiadakis had told her it was not required for her to shake hands with a Russian opponent prior to the start of her tournament.
She also said in a video posted by the Italian newspaper La Repubblica:
"I couldn't act differently, first of all, because I came to the competitions, I came to fence against her, I showed my respect, to stand with her on one piste, and then after the match, I wanted to give her – not shaking hands – but with the blade because it was also allowed during Covid times … but yesterday they changed the rules, because they knew it was going to happen."
She also said that after the match, while Smirnova would not leave – she stayed on the piste for between 45-50 minutes according to reports – Kharlan was told to go, and was disqualified after a Russian protest was filed. Asked if it was a political decision to disqualify her, she replied, "Of course."
She said in an Instagram video:
"I did not want to shake hands with this athlete, and I acted with my heart. So when I heard that they wanted to disqualify me, it killed me so much that I was screaming in pain.
"I think I understand, like everyone else in this world, in a sane world, that the rules have to change because the world is changing."
There have been multiple reports that the FIE has changed its rules to allow a "fencer's salute" instead of a handshake at the end of matches, but the FIE has posted no document which states this.
Kharlan did fence in the Team Sabre event, winning seven bouts, losing four and tying three as Ukraine finished fourth.
Observed: This extraordinary turn of events was hardly a surprise and is completely due to the IOC's 28 March decision to try and integrate Russian and Belarusian "neutrals" in international competition. That Bach and the IOC would step in to grant a direct entry for Kharlan is a feel-good, stopgap measure, but is direct interference with an International Federation, albeit a bumbling, incompetent one in the FIE.
Other federations have already taken note. And what of Kharlan's insistence that she spoke to the FIE's Interim President about exactly this issue prior to the tournament?
The incident is exactly the opposite of what the IOC wanted and creates even more pressure for future events, especially now that the Ukrainian government's ban on competing against Russian and Belarusian "neutrals" has been relaxed in the name of Olympic qualifying. Everyone is now on edge.
For those looking at the panorama of international sport, this kind of incompetence seemed all too likely with an Olympic program made up of multiple sports federations whose continued existence is directly tied to the IOC's television money distribution every four years. Federations like the FIE, which has been supported by cash donations for years from its now-not-involved President, Russian billionaire Alisher Usmanov, do not have the sophistication and experience that well-funded organizations like the Women's Tennis Association or the men's Association of Tennis Professionals, where Russian and Belarusian neutrals have been playing in tense but so-far-respectful situations with Ukrainian players. But nothing like the clown show in Milan.
This isn't over. It's just starting.
Oh, and what of the larger sports, such as aquatics, athletics and gymnastics? World Aquatics and the International Gymnastics Federation (FIG) are still mulling over what the conditions for Russian and Belarusian re-admission will be; World Athletics still has a Russian ban in place. Asked what might happen to speed up that process, President Sebastian Coe (GBR) suggested that Russia "get out of Ukraine."
~ Rich Perelman