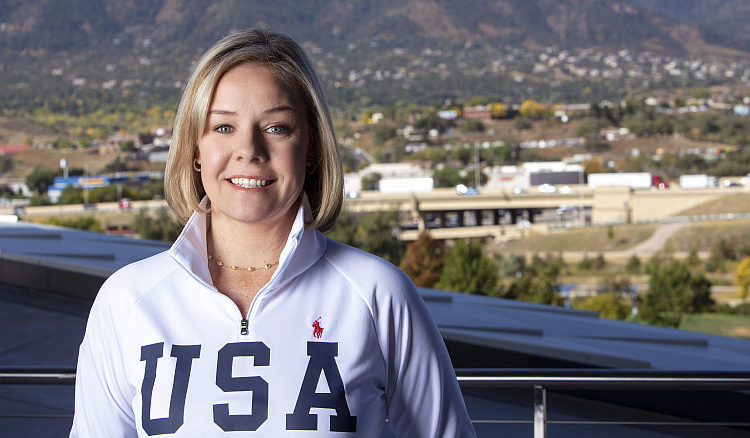 ● From our sister site, TheSportsExaminer.com ●
In 2018, the United States Olympic Committee selected Sarah Hirshland as its new Chief Executive, against the background of the Nassar abuse scandal. Four years later, Nassar is in jail, the Los Angeles 2028 Games is coming up fast and the United States Olympic and Paralympic Committee is being remade, following the Tokyo Olympic and Beijing Winter Games.
In a one-on-one interview from Washington, D.C., where the 2021 and 2022 teams will be honored at the White House on Wednesday, Hirshland went into detail about how the world's leading National Olympic Committee is being rewired. Longtime Chief of Sport Performance Rick Adams is being let go and new divisions are being formed. Her overview:
"We've reorganized the organization into five divisions if you will, and the new position that we're recruiting for now is a Chief of Sport and Athlete Services role, which will be a very significant leadership role for the organization, tackling not only Olympic and Paralympic sport performance, but also looking at the areas of focus where we're looking at pipeline, and the health and efficacy of [National Governing Bodies], so our NGB services and support, our collegiate partnerships work and then also the holistic, sort of health and wellness and services to athletes.
"So it's a very broad role, with several functions. It isn't a new Head of Sport Performance. It's a broad-based leadership role that will oversee a number of the areas for us as an organization.
"That's one division. And then we've got a Strategy and Growth team that are really focused on, sort of, organizational innovation and driving strategy and innovation for the organization as well as critical pieces of the partnership with what now is LA28, and we hope at some point will be a Salt Lake organizing committee as well. And then looking at marketing and communications, international relations, government relations, really managing those important audiences and our service to those groups really effectively.
"And then we'll have a Development Division that's really the [U.S. Olympic & Paralympic Foundation], and our fund-raising and philanthropic [arm]. As you know, that's our most important opportunity for variable revenue. That's our opportunity to really grow our revenue stream over the next several years, and so the Foundation is critically important, has a really good, strong foundation now that can start to expand its purview, if you will, as we think about the classic fund-raising pyramid. Ultimately, when you have really great infrastructure and sophistication as a foundation, you can start to ask for bigger and bigger gifts, and start to build the bottom of the pyramid, which is more volume gifts. They tend to be smaller in size, but more numerous in number. And those will both be key area of focus for us as we look at the Foundation over the next several years.
"And then we'll have what is essentially an Operating division, running important organizational services: legal, I.T., finance, ethics and compliance, making sure that we as an organization are operating and optimizing our effectiveness in the way we conduct our business.
"And then the last is the People function. And thinking about the people function a little but differently as we go forward in an expanded capacity to consider not only 'USOPC staff,' but also thinking about talent development for the [U.S. Olympic] Movement, thinking about how can we develop talent and find talent to feed not only our organization on an ongoing basis, but National Governing Bodies and other important entities in the Movement, and ideally building that kind of talent development and pipeline so that we can provide opportunities for athletes, as they may retire from athletics and want to go into sport administration. We want to be really thoughtful about what that might look like over time."
While all these changes are being made, the USOPC and LA28 are marketing sponsorship and licensing agreements, with a $2.518 billion sales goal listed on the LA28 budget. The USOPC and the Los Angeles 2028 organizers created a new entity, U.S. Olympic & Paralympic Properties (USOPP) to do the work. So far?
"We're really excited and feel very confident that LA28, and really USOPP in particular, has done a very nice job of – in some cases – renewing or working toward, renewals of partners who have been partners of the then-USOC and [now] USOPC … in addition to bringing in some new partners."
The USOPC will receive a minimum of $476 million from the USOPP partnership from 2021-2028 and Hirshland noted that the project is on track.
The USOPC leadership is also about to change, as Board Chair Susanne Lyons will conclude her term – and her Board service – at the end of this year; she has served since 2010 and was the organization's interim chief executive after Scott Blackmun retired, and until Hirshland took over.
The United States currently has two International Olympic Committee members, Anita DeFrantz (elected in 1986) and David Haggerty, the President of the International Tennis Federation (elected in 2020). Winter Olympic gold medalist Kikkan Randall, who was an elected Athletes Commission member, resigned in 2021 due to health issues.
So will the U.S. get another IOC member anytime soon?
"We knew that the transition from Larry [Probst] to Susanne [Lyons] for a short duration was likely to make having our President/Board Chair named to the IOC and that was a decision that the organization made. You know, Susanne's term comes to an end this year; we'll have a new Board chair. Certainly the hope is that that new Board Chair would be considered for an IOC seat."
The chatter about the next USOPC Board Chair has already started in earnest, with former U.S. Ski & Snowboard Chair Dexter Paine and former EY Global Vice Chair for Public Policy Beth Brooke – both on the Board now – being mentioned often.
Coming tomorrow: Hirshland explains the USOPC's challenge of expanding its audience and navigating the increasingly shaky collegiate sports system.