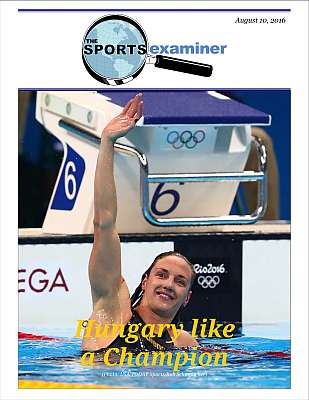 PALM DESERT, Aug. 10, 2016 – Covergirl Katinka Hosszu of Hungary almost gave up swimming, but now she's a triple gold medalist in Rio after winning both individual medleys and 100 m backstroke: the power of perseverance.
The Sports Examiner has full coverage of the Games, which are now in high gear:
A commentary: Do only the Olympics count? Are the World Championships in non-Olympic years worthless?
Our unofficial team scoring shows the ultra-consistent U.S. extending its lead over China with a close race for third shaping up;
Check out our previews of all 19 Wednesday finals across over 11 sports, including the first finals in rowing and table tennis.
All the details are in 21 pages of stats, facts, previews and notes that you can download and carry on your phone, tablet or desktop to keep you informed on today's events in Rio! Click here for the PDF!
Tell your friends to subscribe to The Sports Examiner – free via e-mail – by signing up in the subscription form on the home page of this site!
¶ Perelman, Pioneer offers professional communications and major-event planning, management and production. If we can add to your success, let us know how we can help!
¶ Stay informed with a free subscription to our commentaries by registering your e-mail address on the Perelman, Pioneer home page (subscription box on the right side of the screen).
¶ Want to know when new posts are up? Follow us at Twitter.com/Sports_Examiner