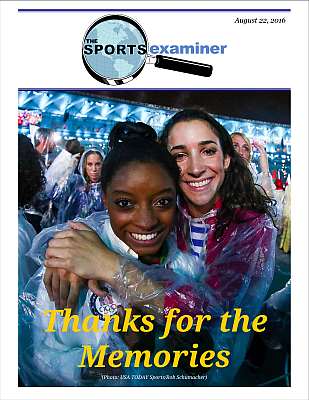 PALM DESERT, Aug. 22, 2016 – The Olympic flame has been extinguished and Rio 2016 has been concluded; what a Games!
We have a summary edition of The Sports Examiner for you, with the medal winners of all 306 events in an easy-to-use, sport-by-sport index.
Plus a page 3 comment on the Rio Games, the organizers and their legion of critics; it took overtime, but credit Rio with a win. Yes, a win.
We hope you enjoyed these Olympic editions, just a prelude to the year-round coverage of international sport we will bring to you – starting later this week – in The Sports Examiner!
Tell your friends to subscribe to The Sports Examiner – free via e-mail – by signing up in the subscription form on the home page of this site!
¶ Perelman, Pioneer offers professional communications and major-event planning, management and production. If we can add to your success, let us know how we can help!
¶ Stay informed with a free subscription to our commentaries by registering your e-mail address on the Perelman, Pioneer home page (subscription box on the right side of the screen).
¶ Want to know when new posts are up? Follow us at Twitter.com/Sports_Examiner