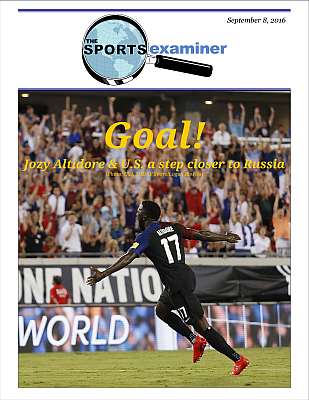 PALM DESERT, Sep. 8, 2016 – There was plenty of worry heading into the U.S. men's national team game against Trinidad & Tobago in the final World Cup qualifying match in Group C of the CONCACAF region.
No need; the U.S. won 4-0 behind two goals from striker Jozy Altidore and brilliant play from 17-year-old Christian Pulisic. Now it's on to the six-team final round – a.k.a. The Hexagonal – to determine who will get to play in Russia in 2018: find the full schedule, along with your all-in-one briefing on the top events in international sport:
Lane One: Don't forget about the Paralympics;
Athletics: 10 events to watch at Friday's Diamond League final in Brussels;
Cycling/Mountain Bike: Can anyone beat Rachel Atherton?
Cycling/Road: Quintana to face one more charge at La Vuelta;
Wrestling: U.S. future shines bright at the World Junior Championships!
Don't let the worldwide carousel of sports pass you by; keep up-to-date with The Sports Examiner! Click here for the PDF!
Tell your friends to subscribe to The Sports Examiner – free via e-mail – by signing up in the subscription form on the home page of Perelman-Pioneer.com.
¶ Perelman, Pioneer offers professional communications and major-event planning, management and production. If we can add to your success, let us know how we can help!
¶ Stay informed with a free subscription to our commentaries by registering your e-mail address on the Perelman, Pioneer home page (subscription box on the right side of the screen).
¶ Want to know when new posts are up? Follow us at Twitter.com/Sports_Examiner