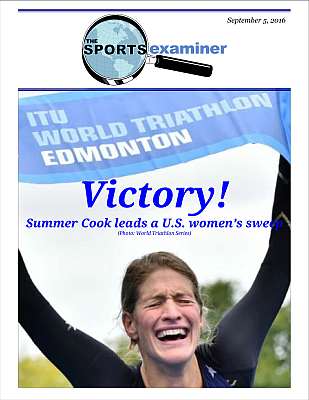 PALM DESERT, Sep. 5, 2016 – As of yesterday morning, Summer Cook had never made it to the podium as a top-three finisher in an ITU World Triathlon Series race.
That's all changed now, as she led a U.S. sweep of the top three places for only the third time in World Triathlon Series history, in the sprint-course race in Edmonton. Read about how she did it, along with your all-in-one briefing on the top events in international sport:
Lane One: Is 40 the new 22?
Aquatics/Swimming: Hosszu and Morozov in new tax brackets after Moscow World Cup;
Athletics: Four Americans win Diamond Race crowns after Weltklasse Zurich;
Cycling/Road: Did Colombia's Quintana clinch La Vuelta in Stage 15?
Triathlon: Cook makes her first appearance on the podium heading a U.S. sweep!
Don't let the worldwide carousel of sports pass you by; keep up-to-date with The Sports Examiner! Click here for the PDF!
Tell your friends to subscribe to The Sports Examiner – free via e-mail – by signing up in the subscription form on the home page of Perelman-Pioneer.com.
¶ Perelman, Pioneer offers professional communications and major-event planning, management and production. If we can add to your success, let us know how we can help!
¶ Stay informed with a free subscription to our commentaries by registering your e-mail address on the Perelman, Pioneer home page (subscription box on the right side of the screen).
¶ Want to know when new posts are up? Follow us at Twitter.com/Sports_Examiner