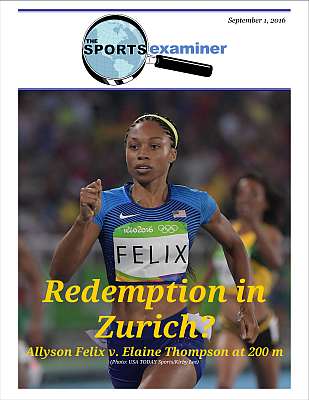 PALM DESERT, Sep. 1, 2016 – Allyson Felix won two gold medals and a silver in Rio, but never got to compete in her favorite event, the 200 meters.
Tonight at the Weltklasse Zurich meet, she gets a showdown with Rio 200 champ Elaine Thompson of Jamaica, silver winner Dafne Schippers of the Netherlands, plus 2004/2008 Olympic gold medalist Veronica Campbell-Brown. Full coverage of the great Zurich line-up and:
Lane One: On Doping ~ it's about Time.
Swimming: Second world record in less than a week for USC alum Vladimir Morozov!
Canoeing/Slalom: Medalists galore at penultimate World Cup, in Prague;
Cycling/Road: Britain's Chris Froome looking for historic double at the Vuelta a Espana;
Triathlon: Critical last World Tri Series stop before the World Champs, in Edmonton.
Don't let the worldwide carousel of sports pass you by; keep up-to-date with The Sports Examiner! Click here for the PDF!
Tell your friends to subscribe to The Sports Examiner – free via e-mail – by signing up in the subscription form on the home page of Perelman-Pioneer.com.
¶ Perelman, Pioneer offers professional communications and major-event planning, management and production. If we can add to your success, let us know how we can help!
¶ Stay informed with a free subscription to our commentaries by registering your e-mail address on the Perelman, Pioneer home page (subscription box on the right side of the screen).
¶ Want to know when new posts are up? Follow us at Twitter.com/Sports_Examiner