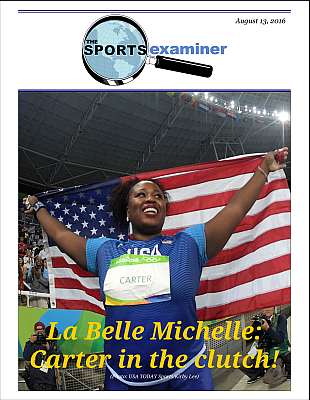 PALM DESERT, Aug. 13, 2016 – Michelle Carter completed a dream with her come-from-behind, final-throw lifetime best and American Record to win the Olympic shot put competition on Friday night in Rio. Carter, daughter of 1984 Olympic silver medalist Michael Carter, overcame the defending Olympic champion – Valerie Adams of New Zealand – to win the gold medal and surpass her father's Olympic achievement.
The Sports Examiner has full coverage of the Games with your guide to Day 8:
A commentary: Should athletes be watching big-screen televisions while racing?
U.S. explodes for 112.3 points, the biggest day of the Games, in our unofficial team scoring;
Check out our previews of all 21 Saturday finals across over nine sports, including both swimming and track & field finals!
All the details are in 23 pages of stats, facts, previews and notes that you can download and carry on your phone, tablet or desktop to keep you informed on today's events in Rio! Click here for the PDF!
Tell your friends to subscribe to The Sports Examiner – free via e-mail – by signing up in the subscription form on the home page of this site!
¶ Perelman, Pioneer offers professional communications and major-event planning, management and production. If we can add to your success, let us know how we can help!
¶ Stay informed with a free subscription to our commentaries by registering your e-mail address on the Perelman, Pioneer home page (subscription box on the right side of the screen).
¶ Want to know when new posts are up? Follow us at Twitter.com/Sports_Examiner