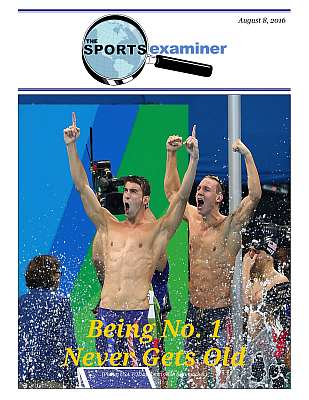 PALM DESERT, Aug. 8, 2016 – American swimmers are doing real damage at the Olympic pool in Rio, with a world record by the unstoppable Katie Ledecky in the 400 m Freestyle and the men's thrilling 4×100 m Freestyle Relay win over France.
The Sports Examiner has you covered for Monday's 14 additional finals in eight sports:
Our unofficial team scoring has the U.S. widening its lead over China, with Italy coming up quickly;
Check out our previews of all 14 Monday finals, including how to watch the Men's Team Final in gymnastics.
All the details are in a 17-page report that you can download and carry on your phone, tablet or desktop to keep you informed on today's events in Rio! Click here for the PDF!
Tell your friends to subscribe to The Sports Examiner – free via e-mail – by signing up in the subscription form on the home page of this site!
¶ Perelman, Pioneer offers professional communications and major-event planning, management and production. If we can add to your success, let us know how we can help!
¶ Stay informed with a free subscription to our commentaries by registering your e-mail address on the Perelman, Pioneer home page (subscription box on the right side of the screen).
¶ Want to know when new posts are up? Follow us at Twitter.com/Sports_Examiner